Hello Everyone, {*** A Lil Picture Heavy Post***}
I did not wanna be late with my inspiration this time as compared to the last for ICRC18.... :p
And moreover this time we have the most complicated of all challenges, the FANCY FOLDS.... Phew!
May be that is an easy task to most who are well versed with these folds & indulge in them on every alternative project they do, but for me believe me it was not that easy at all..... I made one for the challenge & did not quite like it.... Hence attempted another, which finally made as an inspiration for ICRC19!
But when photographed, even the previous did look good though.... But since it did not satisfy me in real, I did not wanna post that as an inspiration.... But would surely share it with you peeps, here on my blog space.... :D
To go ahead with ICRC19, here is the challenge pad for you....
And now for the inspiration towards it....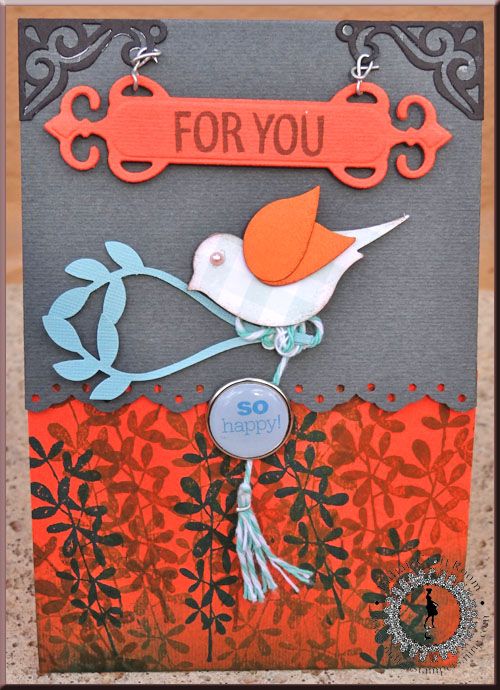 That is a horizontal GATE FOLD CREATION..... The Card Front!
When the tassel unwinds against the Sentiment Brad, it flips open...
Just an angled shot where it poses a housed structure.... :p
Thanking certain challenges which helped me through in creating this project.....
Color Throwdown for its Colors..... (Grey, Orange, slight darker shade of Cameo Coral & Pool Party)
Freshly Made Sketches for the Sketch....
CRAFT Challenge for Feather/Birds....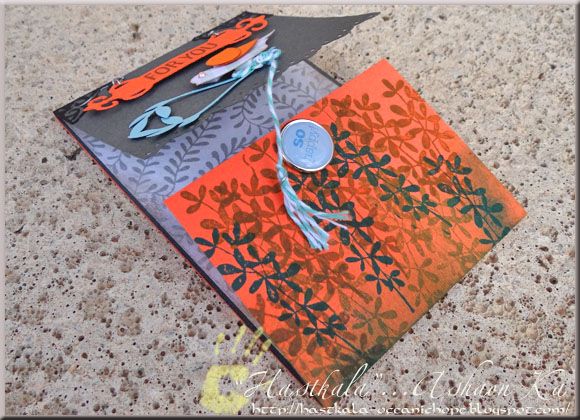 The Prep :
For the base used both grey CS as well as Cameo Coral shade CS from Fabriano.... Adhered them together....
Trimmed the edge of the grey CS with SU! Eyelet edge punch....
Repetitive stamping of the ferns from Studio G, a RAK from B...
Let the sentiment For You hang from the Vintage Die Cuts from Provo Craft.....
Sentiment is from Close To My Heart a RAK from B.....
Bird Punch from Stampin' UP!
Epoxy Brad with sentiment So Happy, a RAK from B.....
Baker's Twine for the tasseled locking system.....
This vertical GATE FOLD creation below was the initial inspiration I made, which I quite did not like after being created.... :( Looks different in the photograph though!
The Prep:
Chocolate CS from fabriano fro the base.....
Adhered an embossed CS from Itsy Bitsy on to the one side of the card front & on the other adhered a DP from Deja Views Wedding Collection....
For the outer frame used the Edgeabilities Rose Blossoms which was a RAK from B....
The inner frames were die cuts out of the Scalloped oval die from Nestabilities.....
Used the Vintage Die cuts from Provo Craft for the corners.....
Distressed the frames by sponging some wall nut stain distress ink around....
Added a dash of halved pearls from Itsy Bitsy on the center of the die cut rose blossom & around too...
Adhered some silver pearls from stash.....
On the inside adhered an Oval cut shape from an embossed DP from Itsy Bitsy..... which has been distressed by sponging ink around.....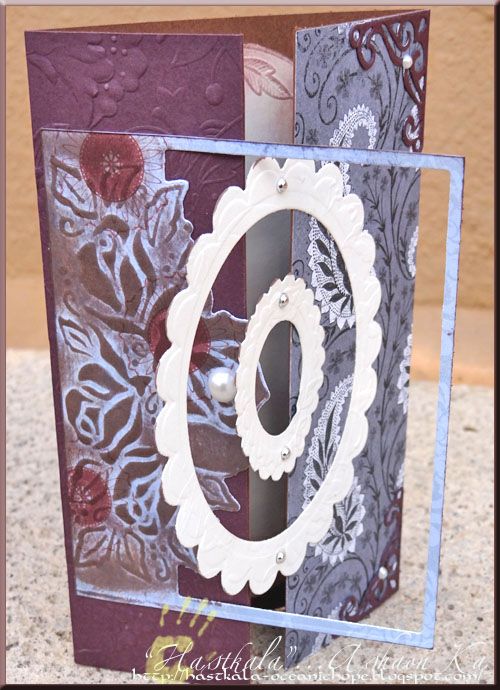 You ought to give ICRC19 a serious try moving out of your comfort zone, for once if you are basically a two fold card maker like me..... :P
And for the card makers whose forte is FANCY FOLD, then this is your cup of tea..... Brew it along with

ICRC19

!!!
A pic of some goodies I received recently..... :D
Thank You!
UNTIL NEXT, KEEP THE FAITH!!!