Hello or rather Holi everyone!!!!!! Happy Hello & Happy Holi to One & All.............. Play the Colors!!!!!
I am all excited about this new blog..... As it has got to do with my craft & art skills...... ONLY.......
My first blog just turned one yesterday..... And I am so happy for it..... But since I went out, hunting for my 'card'inal paraphernalia, I could not celebrate it online, by posting about it.... So it got postponed for today..... I hope & pray that this new blog, dedicated to my CRAFTY side, celebrates its anniversary too..... I wish it does..... And I would work towards it........ Best Wishes!!!!!!
All these days I was kinda busy admiring others works of art & craft.... They are all awesome..... I was rather blog hopping & making a note of all the Challenges in Blogosphere, for me to take part & play with........ I do not possess the required paraphernalia..... but managed somehow with what I had..... & went hunting for some simple basic stuffs yesterday...... I could not believe myself that I was not able to find a paper cutter that I found many were using....... I was dead tired, by the time I returned home...... I found a few simple stamps..... I did not find the punches to help me though..... So managed with a few good stickers...that would surely help me in my future projects......
This week I was counting on many such challenges that EXPERTS have thrown..... I wanted to play my best with all that I had & in one project too..... Combining all these challenges, made me shape this card for good...... as I was celebrating my 'first blog'... 'first Birthday', I had to make this to mark my celebration & happiness....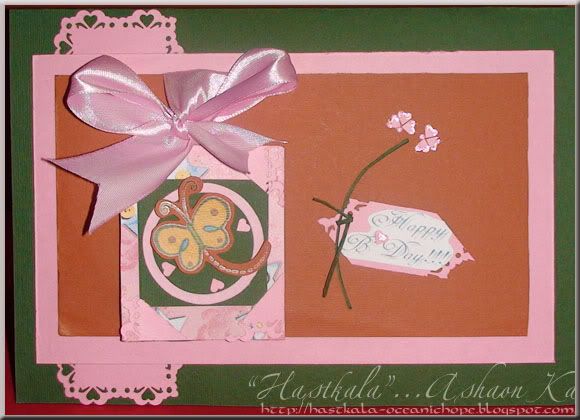 Who or What made me shape this card??????
Hmmm..... MANY!!!!! Thanks to all!!!!! For their wonderful ideas, challenged at us.....
Card Positioning Systems for the basic layout..... Which is the real hard part...... thinking of a layout... becomes very difficult, & here they gave me that basic beginning......
Broni of Color Throwdown for the base Color theme - Pink/White, Green & Brown
Danni of Flutter By Wednesdays for
the choice of butterflies, angel or Fairy.....
Shar of Ginger Snap Creations for the Birthday theme with flowers.....
Deena of Crafty Creations Challenges for Cut it out & pop it up!
Wendy of My Time To Craft Challenge for In The Frame Challenge...
CaardVarks for Sticker Challenge
Cute Card Thursday for their Challenge 101- Ribbon-Tastic! Challenge &
Craft Challenge for their Challenge 39 - A recipe- Ribbons & Sparkle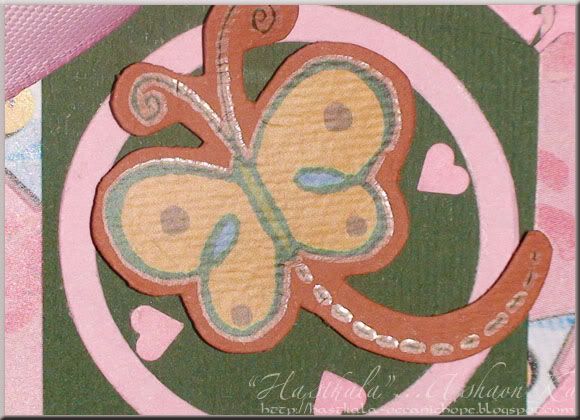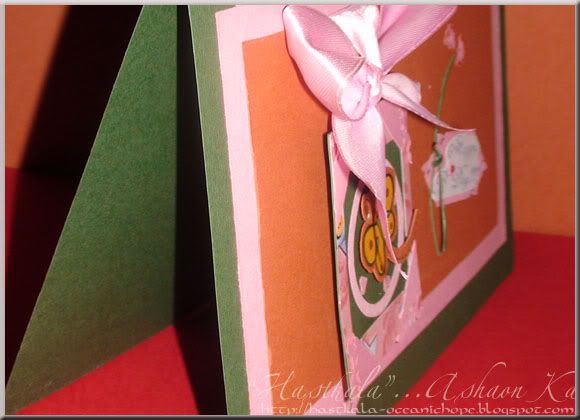 How I shaped this up??????
I got the sentiment printed on a paper, which I used as a cut out & left it free there to just hang on to the stem....
I used the rub-on sticker to transfer the butterfly onto the card stock.... & then I just had to cut it out & pop it up!
For the frame I used the embossed sticker by hobby ideas & my punched out cuts.....
The ribbon I bought from the city super market.....
The right side flower was made with the punched out little hearts & dots..... that fell off, well I had a trap for them too ;-) .... & yes! I added a dash of sparkle on these with the help of my glitter pens, but it is not clearly visible on the picture....... &
for the stem I used the scrap piece I got, when I trimmed the sides of my base card stock..... green...... Simple!!!!!
That's it For Now!!!!!!
WISHING A LIFE FULL OF COLORS!!!!
HAPPY HOLI!!!!!!
UNTIL NEXT, KEEP THE FAITH!!!!!