Heya! I indulged myself in a project which kinda got me to incorporate all the challenges I had for today..... So I am happy about that..... I loved the outcome too.... Very uniquely colored..... & a different one in my lot.....
The uniqueness in this project was a new challenge I had to attempt....Stamping fabric & incorporating it in my project..... I loved doing it & wanna try more.... Unfortunately did not have any spare fabric in the colors I was attempting, so used the piece I had..... ;-)
So here it is.....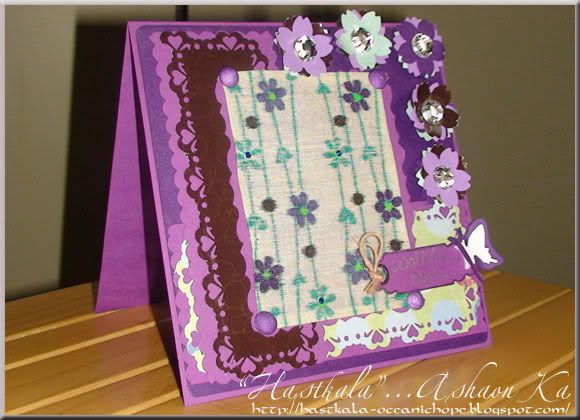 And I Thank........
Paper Take Weekly
for their Sketch.....
Play Date Cafe
for their Colors......
StampTV
for their unique idea of stamping on fabric......
Inky Impressions
for Flower Recipe.... (F-Flowers, L-Lacing, O-Circle & Circle Embellishments & S-Sparkle)
Flutter By Wednesdays
for open with butterfly....
My Time 2 Craft Challenge
for wording to make a day!
Stampin For The Weekend
to make someone SMILE!
Paper Play Challenges
for Up In The Air....
Totally Gorjuss
for Wings....
Delightful Sketches
for Texture....
Scrappy Hour
for trying something different....
Pink Elephant
for using some bright colors.....
I Used.......
Kinda violet CS for the base & layered it with a purple plain paper........
Punched chocolate & a green DP from dejaview collection, with my hearts border punch.... [
The punch has kindashattered with its strings falling apart, I love it so much that I just use all my strength to hold them together & use it
]
Adhered all those panels onto violet CS layers....
Punched flowers with my itsy bitsy flower punch & piled them on to make a nice set of blooms....
Adhered white rhinestones to make the center of the flowers.....
Stamped my floral stamp from hobby ideas on the cotton silk fabric with Fabercastell green.....
Colored the flowers with sketch pens.... The ink kinda bled onto the fabric, yet I liked the look of it..... Like it was a print... I really feel proud to have tried something different....
SO used that stamped fabric as my focal image....
Hand cut a small cute tag & added the hand written sentiment on it... WORLD'S BEST....... :-)
That is it for now..... Will be back soon with something different again.... Thanks to everyone for all the support & encouragement....
UNTIL NEXT, KEEP THE FAITH!!!!!