Hey! Posting after a long time.... I really had the time in hand today, but it became quite difficult to be motivated into indulging in a project.... May be the gap.... I realize it is true that a gap & space only increases the distance..... Becomes difficult to bond again.... At least it was difficult for me to really sit & attempt some challenge & even concentrate in doing so..... Because without motivation, ideas do not tend to make their way...
Somehow attempted few challenges but not really happy with the outcome.... The feeling of satisfaction is missing.... May be this could give the kick start I wanted after the long break..... So here it is.....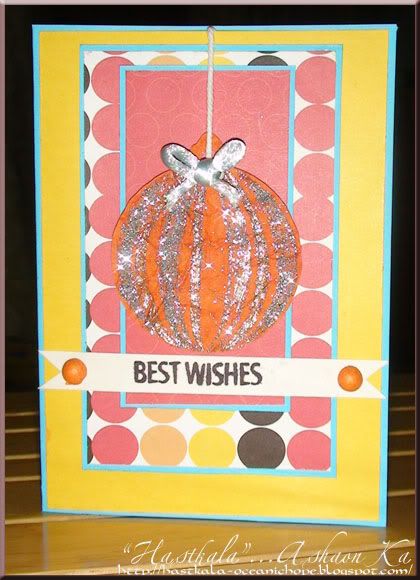 I Thank....
The Pink Elephant Challenge
for their Sketch.....
Moxie Fab World
for their Colors.....
Cards For Men
for their Recipe....
Ginger Snap Creations
for their Theme of Hot Colors......
Trimmies Craft Challenge
for their Theme of Hot & Spicy....
Paper Play Challenges
for their Open Theme....
Modus Operandi.....
Aqua Blue CS for base & layers....
Yellow CS for the layer....
DP in red & DP in yellow, red & black rounds....
Hand cut the circle for the Hanging Light in Orange & sprinkled some glitters to give it some accent....
Tied a bow with a silk string in light blue.....
Stamped the sentiment from Acrylix with Faber Castell ink in black....
Used the halved thermocol ball in orange.....
That is it for now.... Will be back soon with the pics of my second shipment & June ATCs I received..... :)
UNTIL NEXT, KEEP THE FAITH!!!!