Hello,
As I conveyed in my yester post, I am here to share with you the goodies I recently received from my inspiration to the Pro Card Making World...... I admired Elizabeth &
her craft room
for over a year & just following her projects & works, gave me the inspiration I required to really do my cards the PRO way.....
I was interested in card making from a very young age, but was an amateur who just drew over the cards or would just collage the pics I could lay my hands on.... pertaining to the occasions....
But following her works inspired me to do much better than what I did..... It gave me & my work a direction to walk on..... And yes! since then there was no looking back..... I have reached here, where I am today.... Peeps who come across my works appreciate them & look at them in a professional manner.... All Thanks to her..... Till date i visit her works & every time I visit her fills me with new enthu & ideas to work on..... She is one among the BEST, we have around.... A Thorough Professional....
And one day I see a mail from her asking for my snail mail ID..... And I was like what!!!!! Beamed with joy & wasted no time in sharing my happiness with my hubby..... He felt good that I was happy..... And few days later, just before me leaving for my trip to Ranchi, I received these goodies...... All I wanted was to just come back & use them all on my projects..... WOW!!!! Such was the excitement..... And that too they were all from Stampin' UP! that I have always dreamt of playing with...... :)
So here they are.....
An overview of the goodies......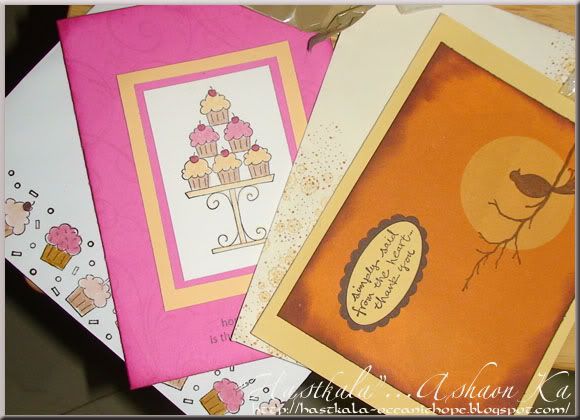 These are the cards she made... Are they not simply adorable???? The bright colors, the pattern, the finish, are all very awesome & appealing..... I was so happy to have received her works too.... The ones I had been admiring for so long & all of a sudden they were on my hands, like it was magical..... :0 Thanks to all the means of transport & communication...... :)
There were mini stamps & ink pads, with a packet of brads, ATC sized sheets & ribbons too.... packed in three different colored packets, with a small hand written note from her... Neat & perfect gifts..... :)
Here they are...... I loved them for they were small & handy & perfect during traveling..... Handy mobile stuffs.... Do visit her craft room & I bet U would not be disappointed..... I can vouch for it.....
Now I am off to work on something.... Hope to be back soon with some new project.....
UNTIL NEXT, KEEP THE FAITH!!!!