Hello Patrons & Crafters,
On time with my ICRC20 inspiration.... :D
Yes, I know it is August & a month of many such celebrations which means a lot to us as Indians & as individuals.... But there is one celebration which means a lot to us as just homo sapiens.... A celebration of social bonding.... which is celebrated as FRIENDSHIP DAY & yes it is again just around the corner......
With that in mind we came up with a real fun challenge this month on ICR.....
Below is the challenge pad to it....
And the Challenge is EMBOSSING(Dry/Wet/Ready made) but EMBOSSING must be CLEARLY visible on the creation.... TWIST being adding a sentiment to the creation which has at least 3 different fonts & something associated with Friendship!
And the TWIST was a lil hard for the team to break on..... After all ICR dares are meant to be DIFFERENT & A CUT ABOVE THE REST.... Since the whole idea is to give an opportunity of GROWTH to the passionate paper crafter of India....
So wanna raise the bar as a creative crafter, dare yourself with ICRC20!
Here is my inspiration for you in this direction..... :D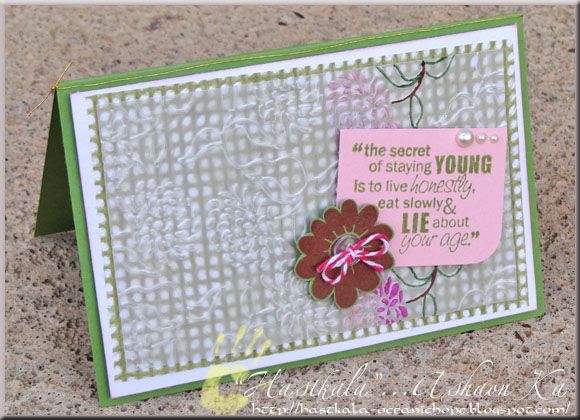 The Prep :
CS a RAK from B....
White CS from Fabriano for the layer....
Burlap in green from Landmark.....
Vellum from Itsy Bitsy....
Dry embossed the vellum using an Itsy Bitsy Embossing Folder

*

.....
And ran few colors of bic markers on the embossed images, restricting it to a little.....
The sentiment is a Fiskar Birthday sentiment stamp which has been inked with memento bamboo leaves....
The flower is again a stamp from Itsy Bitsy which was stamped & then hand cut to be added as an embellishment on this creation.....
Adhered a clear button from Stampin' UP! with a baker twine in pink tied into a bow....
And to the sentiment added a few halved pearls from Itsy Bitsy.....
I loved the way it turned out.... Simple yet cute.... :D
*

Itsy Bitsy Embossing Folder -
Firstly thanks for these adorable embossing folders that Itsy Bitsy is catering us Indian Crafters with.....
This was the first time I was using it & was quite amazed by the crispness of the images.... And to add to it, the very first time I was working on a vellum too trying to emboss on it.... And was impressed the with the beautiful impressions on it.... NEAT & CRISP!!!
Thanks again.... :D
Very soon would be reviewing few designs in the ITSY BITSY GROUP on ICR.... And in case of any doubts & clarifications, please do not hesitate to write to me..... :D
After all, we can ONLY achieve what we want for our Indian Crafters by walking ahead with the strength of unity.... And we for sure want to give only our best for our FUTURE PAPER CRAFTERS too.....
Well that is pretty much about my creation for ICRC20..... But yes do not forget to tune into our

ICR FB page

for a taste of all passionate creations & inspirations from our Paper Crafters.....
Looking forward to see how you nail the

ICRC20

dare!!!