Hello Peeps,
There we are at the dead end of 2012!
Hoping the New Year ahead unfolds many more additions to our happiness & blesses us with all the joys it has in its kitty.... :D
And ICR also throws in a FRESH & OUT OF THE COMFORT ZONE CHALLENGE to mould us into better & skilled paper crafters.... It is definitely a step further in this direction!
Follow the challenge pad to take the dare!
And following it, here is my inspiration for the same......
I have truly challenged myself in this direction as I was too very sceptical to take the plunge with this..... but finally I did try out something that I was happy & content with, at the end of it..... Hope you like it too..... :D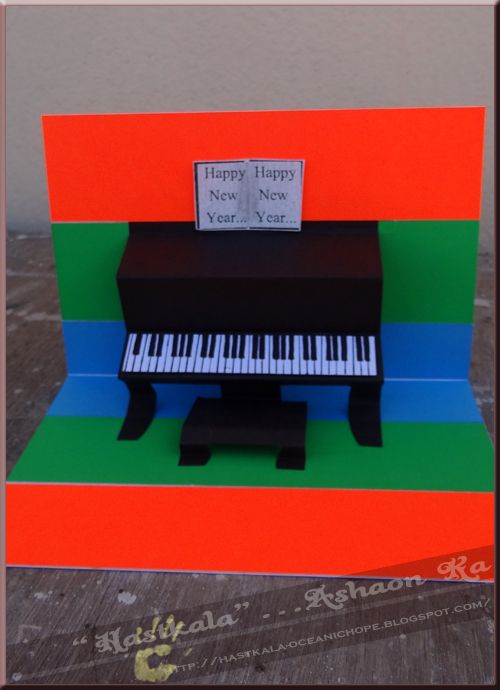 Yes after all the nail biting thoughts of escaping this challenge, I finally decided to face it as there was no escape for me..... And dedicated a night's sleep to it..... :O
Yes! I finally managed to pop up a piano, upright....
Well that is not my original idea!
I did not wanna try Christmas Firstly, because that was kinda common.... Secondly, I did not have any one who I could send one too after me giving away a nights sleep to its formation.... Hence thought NEW YEAR was best so I could send it to mom on New Year!
I found the popped up Piano on the net in tumblr..... But unfortunately there was no deets to its being..... I had to spend time figuring out its creation which I did & quite liked what I could cook up.... But of course there is a lot of scope on improvisation!
So I really hope it inspires you to pop up something for yourself & your family too..... :D
And of all the places I went for inspiration to help me begin from scratch, I liked the Moxie Fab World Keen On Neon challenge which dared you to use NEON COLORS!
So that was double dare for me... WAIT! There is one more to it......
Pop Up cards are accentuating by themselves.... But I wanted to dare myself again to be able to tone down the feel of a POP UP CARD.... to be able to contradict the very theme & its norms.....
Hence I dared to then top it up with CAS theme on the front which now confirms it as a TRIPLE DARE for me with this project !
So below is the CAS FRONT of the Pop Up Card....... which was inspired by the (CAS)E THIS SKETCH!
Okay you say that has been posted in an anti clockwise direction...... But I say I worked it in that direction & hence would stick to it... :p
And I took a lil inspiration from the Jay Gee's Nook inspiration board with the B/W stripes....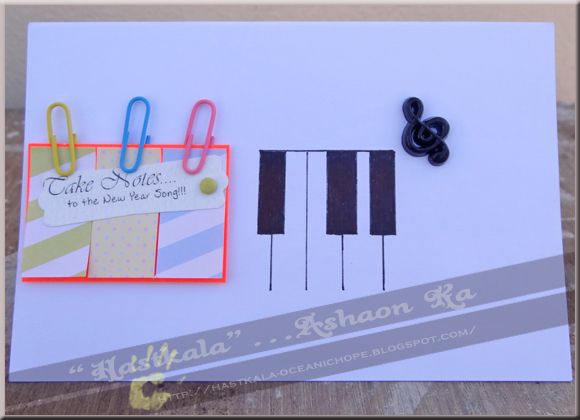 When I decided I would play NEW YEAR on my project, the only song that came to my mind & quickly to the tongue were the words of THE MOST POPULAR NEW YEAR SONG by ABBA!
I had grown up listening to it, humming of course..... & dancing to the tunes every new year... And this year I wanted to grab the opportunity of being able to dedicate a project to it, made by my very own two hands..... And now I FEEL & BREATHE, CONTENT!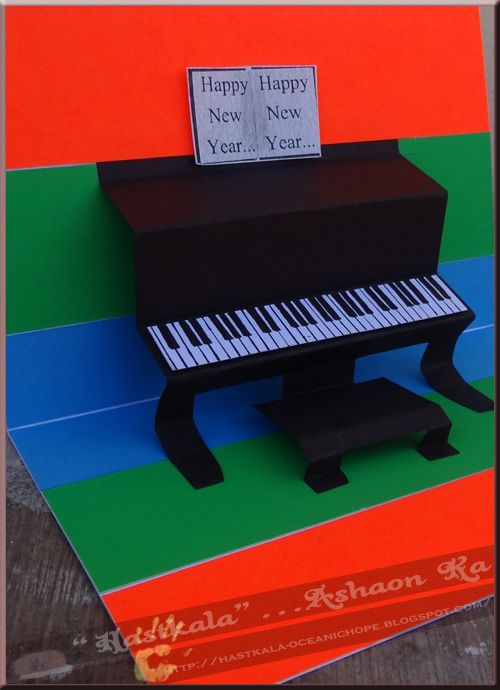 These are a few angled shots of my project on the inside.....
And believe me for the first time in my life I have worked it backwards..... rather outwards!
Meaning, usually we create the card fronts & fill in the blanks inside..... But with this project I worked the inside first & when it was done completely, I thought of what I would do on the outside to it..... STRANGE! Is it not????
Well Sometimes strangest things happen for good.... :D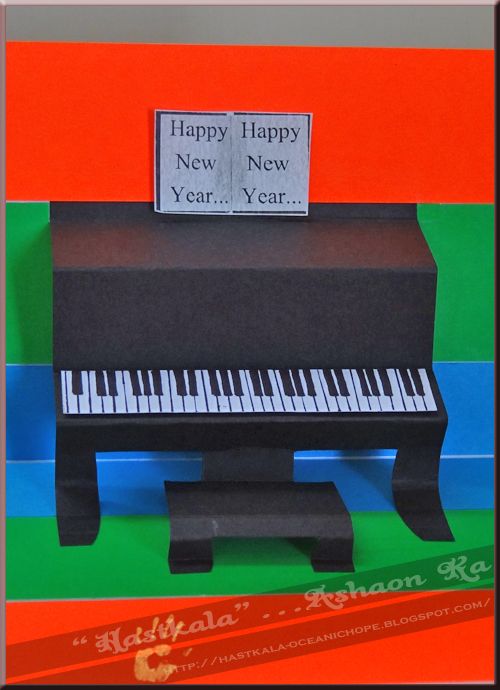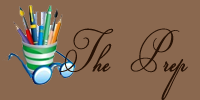 1) Stripped down my neon collection picked at Itsy Bitsy & adhered it down in an arrangement, to cover the pop up on the inside....
2) The Piano keys are doodled with a marker.....
3) And since I wanted to keep it CAS, again doodled piano keys on a side & cooked up sentiment to coordinate the project.....
4) Punched the sentiment on a word document, printed & punched it out with SU! label punch.....

"TAKE NOTES..... to the New Year Song!!!"
5) And since I love playing with words I had to work it all up so it indicates a PUN-FUN... :D
6) Some Jump Pins from office supplies, some post it notes, a brad from stash & a music note embellie picked from Itsy Bitsy, all completed this very dear project, for me......
That is all about MY VERY LONG STORY!!!
Hope you would also join us at ICR with ICRC24 & dare yourselves too, to a skill groom!
UNTIL NEXT, KEEP THE FAITH!!!