Hey, here is my final card for the day..... And I guess for few days.... As I don't seem to be feeling fine..... I might abscond from blogosphere, for sometime..... but would surely be back with many more interesting projects soon.....
U peeps enjoy every single project & your life, to the core...... God Bless!!!!
So here is my final project.....
I thank.....
Sketch Saturday
for their Sketch....
Embellish Magazine
for their theme & colors....
Totally Gorjuss
for Wings!
Ginger Snap Creations
for pencils,
Quotes
&
Wings
!
Paper Take Weekly
for Fun!
Delightful Sketches
for Textures....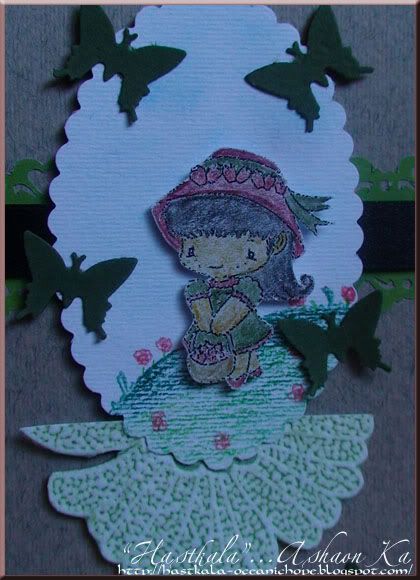 I Used...
Green CS for the base....
Kraft CS for the layer....
White CS for the scalloped oval layer....
Olive green plain paper punched with hearts border punch....
Black ribbon passed through....
Colored the image from Sliekje designs, with Fabercastell Color Pencils...
Punched butterflies & hand cut the embossed flower from the printed paper.....
Hand written Love Quote.......
That is it for today...... May be I will take a break, till I am Okay again..... Hope 2 c u all in the PINK of Health...... :-(
UNTIL NEXT, KEEP THE FAITH!!!!