Hey! I am back with that second I just mentioned on my prior post..... It took me sometime to mould this to being.... And I am so so happy with the outcome....
Both me & my hubby loved the look of it..... After all, it is Wedding Bliss!!!!!! The day I looked forward to eagerly in my life & when it finally happened, my joy knew no bounds.... And after all these years, we still LIVE & ENJOY those moments...... Sheer Bliss!!!!!
According to me "LOVE has wings...... Not to fly away through the window, but to soar higher & higher, with the passage of the time"...... I am so blessed to have relished the luscious taste of LOVE...... :-)
So here it is..... Ta! Da!
And I Thank.....
Fussy & Fancy Challenges
for Monochromatic & Wings..... ;-)
The Pink Elephant Challenge
for their Sketch....
365 Cards
for Wedding Theme with twist.....
Paper Play Challenge
for Using something that I did not..... (Ribbon & Embossed DP)
Crazy 4 Challenges
for Paper Flowers....
Totally Gorjuss
for Sugar & Spice....
The Secret Crafter Saturday
for Wedding/Anniversary theme.....
Jazzy Paper
for the Photo Inspiration..... (The Colors & Letters)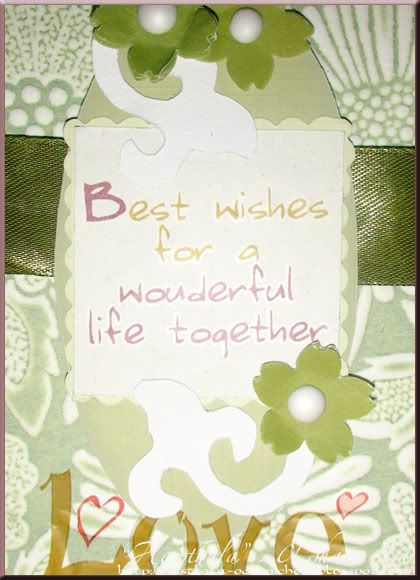 I Used....
Dark Green CS for the base....
Embossed DP for the layer.....
Celery Green CSs in 2 shades for the Oval & Scalloped Square Hand Cut layers..... (
Deja View
Collection
)
Olive Green Plain DP for the punched out flowers.....
White CS for the Flourishes.....
Olive Green Ribbon.....
Halved thermocol balls in white for the center of the flowers..... ( I simply LOVE them)
And Last but certainly not the least, The Hobby Ideas Rub On for Sentiments......
That is it for now.....
UNTIL NEXT, KEEP THE FAITH!!!!!