नमस्ते
!
नमस्ते
! Hello & Namasthe!!!! So here I am to post my June ATCs..... Oh! I enjoyed indulging in them thoroughly...... Why will I not???? It was The Ethnic India after all!!!! Every time I work on the theme, it leads me to diversities.... But when put together makes me proud.... Proud that I was able to attempt something like that.....
As always, if I sat 'to write', there is no stopping me.... ;) So lemme continue with the ATC postings..... Well the theme for the month of June was Ethnic India.... And I thank
Kishley
with all my heart for putting forth this theme for us to work on & enjoy ourselves in the process..... So below are my takes on the theme......
Firstly Colors Of India......
The very first thought that gushed in my mind, as I read the theme was 'Mehendi'..... The lovely scent of henna & the intricate designs applied haunted me day & night... I finally thought Yes! however I proceed further, I would surely make this a part of my project....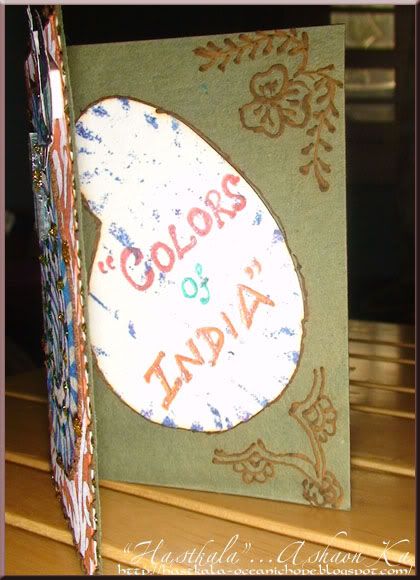 And as the days & the projects rolled out, mehendi intrigued my projects.... Quite unknowingly, it became a very integral part of my ATCs for the month of June..... :)
I went hunting for the mehendi blocks on the streets of Bangalore... Finally found some at Commercial Street..... Bless the woman who had it 'for me'..... :) I bought few wooden blocks & cones from her.... I got some glass pieces too as that makes a strong existence in most of the handmade products in India.....
I later sat to put them all together.... I drew a peacock, colored & hand cut it too... SO that was about the Colors of India on my ATC..... :)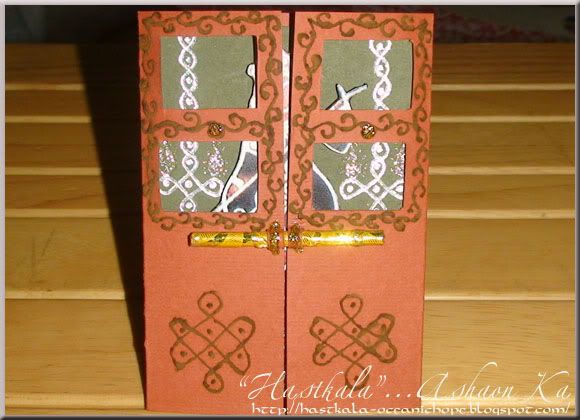 And Secondly An Ethnic Pooja Room
After the completion of the first project, my mind was always busy working out the next one.... Many thoughts bloomed & withered :( ..... As I did my pooja (prayers) one fine day, even before I could complete it, the thought struck me, 'what more could be ethnic than our place of worship'..... And with that haunting me, just went with the flow to build this miniature pooja room on my CS & papers.....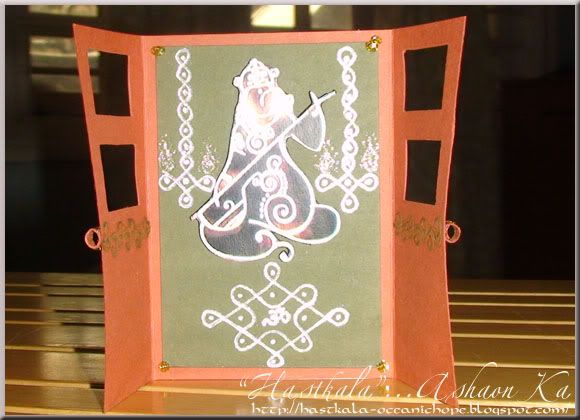 With mehendi already having taken its Lion share in my thoughts, & the pooja room in mind, gave birth to the beauty of Rangoli all over India.... With uniqueness in its designs pertaining to the Northern & Southern parts of the country, I preferred to stick to my southern origin..... Because that was when, "now my hubby, then the guy-next-door", watched me & appreciated my interests in art.....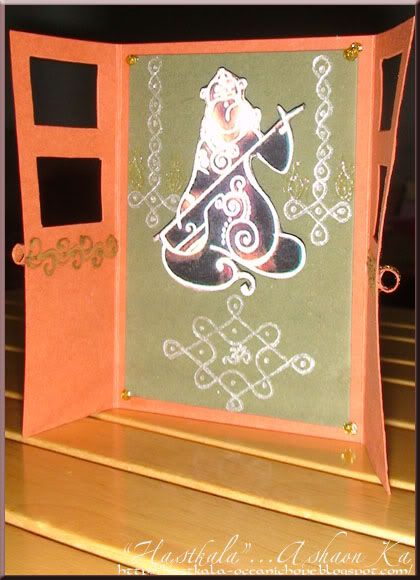 Without losing time, I sat again, now with both mehendi & rangoli ruling my thoughts..... & poor me giving them the scope required, to take their form & shape beautifully..... :) The pooja room at my home resembles this piece to certain extent...but it adorns more bling in the form of brass embellishments.........
Used my glitter pens, CSs, mehendi cone & a piece of glitter paper....
Not to forget, do make a visit to the space that adorns all the awesome & mind blowing works made by other talented fellow crafters on Ethnic India..... So hurry to
Crazy About ATCs
..... ;)
That is it for now..... May or may not be back very soon..... ;) I am tired.... Actually I hate to sit in front of the comp continuously..... So..... depends..... U people have a nice time.... :)
UNTIL NEXT, KEEP THE FAITH!!!!!