Hey!!! Back with the next as promised in my prior..... :) Hmm..... This one yes! as the title indicates.... It is for us friends... who are friends forever.... ;) Women sometimes find it difficult to say so.... because there are times when it tends to get tedious & slips out of your hands withing a fraction of a second.... I even believe that women are nuts, many a times..... ;) Even with all these fickleness, as I have heard, seen & still believe that Yes! Women can remain friends forever..... :)
So here! Is to Women & their Friendship......
And I Thank.....
Card Patterns
for their Sketch....
Jazzy Papers
for their Colors.....
365 Cards
for their Recipe.....
ABC Challenge
for their You & Me....
Double Dutch Challenges
for Movie Madness.... (
The Women/2008
)
Paper Take Weekly
for In The Garden....
Modus Operandi :)
Used CS in dark pink for the base & those several layers.....
Dark Blue CS for the layered panel.....
4 different DPs........ (
had a hard time putting these 3/4" x 3/4" layers in place on a 4" x 4" card:-P
)
Silk thread for a dimension......
Friends Stamp from Kolette Hall..... Loved the look of the stamp.... But the 'friends' kinda smudged :(
Blossoms from Itsy Bitsy.....
Used the metal dot adhesive on the center of the bigger flower.....
*** After everything was ready, realized that the recipe included hand stitching, which was a miss on my project.... In order to fulfill that, I had to undo the first layer & re-do a stitching with a black thread..... :) Phew!!!!! Now I was completely done & ready with the project...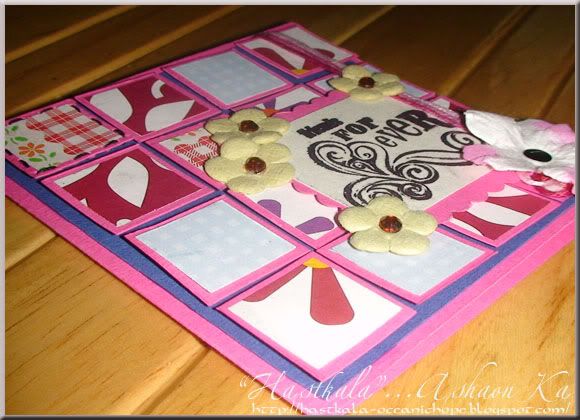 It seems like the internet is crazy or rather the sites.... When I try to enter my project, it gives me a message that the challenge site is for sale & asks me if I wanted to buy them.... Not one but almost all of them.... Ya! Sure.....Why Not? :0
That is it for now..... Will be back with my next soon....
UNTIL NEXT, KEEP THE FAITH!!!!