Hello Everybody! I know Diwali, The Festival Of Lights, is gone pass.... Yet, the Challenge at our very own CraftyJC Challenge blog, is helping me light up the spirit for the whole of this month..... The challenge is to create a Diwali or an ethnic Indian card..... What more could I ask for! I am in love with anything that lets me create something Indian, within my capabilities, of course!
I made a card for Diwali, which I had not otherwise... :( I really thank the team at CraftyJC for putting it up as a challenge for the month.... So here it is....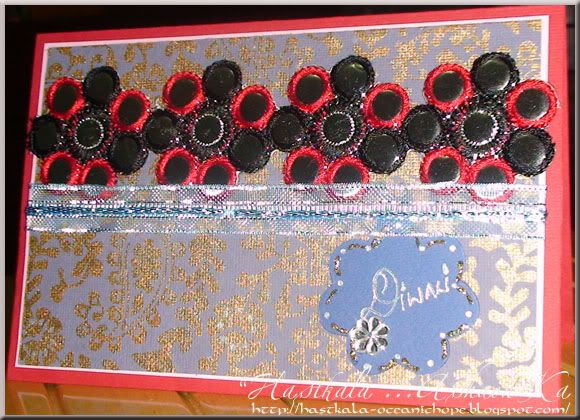 And I Thank......
Inspired Crafters
for their lovely Sketch...
The Play Date Cafe
for their unique Color Combo...
Paper Play Challenges
for the Recipe.....
ABC challenges
for H for Holidays.....
CraftyJC Challenge
for Diwali .....
Delightful Sketches
for Glitter....
The Secret Crafter Saturday Challenge
for Sparkle & Shine....
Cute Card Thursday
for Anything goes.....
Stamps R Us
for Sparkles & Scallops....
Modus Operandi.....
Red CS for the base.....
Light Pink CS for the layer....
Handmade DP in light blue from TimeOut.....
Ribbon from stash.....
Hand cut a similar flower to match the Lacey embellishment.....
Doodled on the hand cut flower to give some dimensions....
Hand Written Sentiment..... DIWALI!!!!
Adhered a rhinestone in white beside the sentiment....
That is it for now.... Will be back soon with another....
UNTIL NEXT, KEEP THE FAITH!!!!