Hello Everyone!!!! My joy knows no bounds today..... Literally jumping out of JOY!!!!
Why????
ICR
sees the beginning of its very first Challenge..... And I thank everyone of you who has made it possible..... You would not believe me if I said I had butterflies in my tummy before I could post it & the very first comment of appreciation made us feel happy & jump.... Thank u so much.... :)
Looking forward to all the support & participation from ALL my crafty Counterparts not only in INDIA but All Over the World......
A small insight to the ICR Challenge....
We have a COMBO challenge to begin with.....
Color Hues + ICR
.... There is a splash of 3 colors with the icing of ICR interpretation..... Just add them to your creations to come up with wonders that you would fall in love with.... ;)
Drop in at
ICR
, for more details on What? How? When? & Where?
Here is the card I made for the Challenge..... I was scared when I started off with it, but liked it at the end.... all fell into place..... Made it for one of my fellow crafters.... :) I really hope she likes it.....
And I Thank....
Mojo Monday
for their lovely Sketch.....
ICR Challenge
of course for the Colors + ICR (
Italics

, Celebrate & Rounds
).....
PTI Challenge
for Masking with Dies.... (
Scalloped Circle for Sentiment
)
LadyBug Crafts Ink
for Celebration....
Stamptacular Sunday
for Girls & Swirls.....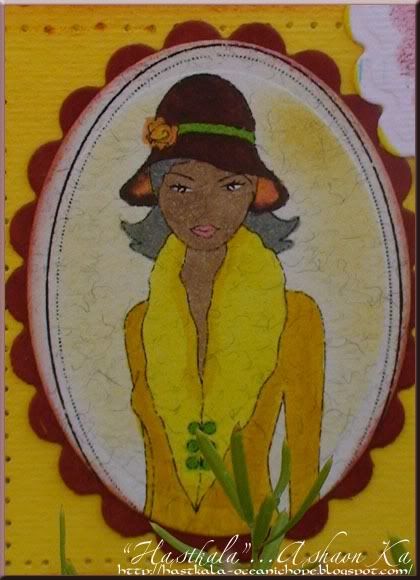 Prep:
Yellow CS for the base which was a RAK from B....
Fabriano sheet in yellow & white for the layered panels.....
Handmade sheet for the layers in maroon red
DP in lemon yellow & green swirly floral patterns from Itsy Bitsy....
Embroidery thread in maroon red for the string attached & tied to a small bow....
Used my paper piercer to pierce the bordered holes on the yellow layered panel....
Nestabilities Oval die cuts in plain & scalloped edges.....
Image is a vintage girl digi from Wendy made....
Colored the image with Bic Markers.....
Nestabilities scalloped circle die cut for the sentiment.....
Did a masking with the smaller sized die cut on that one size bigger die cut..... Sponged the memento ink in Rhubarb Stalk......
You can see a lot of distressing around too....
Ribbon in yellow is a RAK from M....
Sentiment are stamps from PTI & inked them with FaberCastell green....
That is it for now..... Will be back right away with another posting related to ICR again..... ICR all the way!!!!
Come join us at
Indian Craft Room
(
ICR
) for all the daring FUN!!!!
UNTIL NEXT, KEEP THE FAITH!!!!!!