A BIG HELLO to ALL!!!! I had been away & it was away from everything..... Rather my routine.... Now that I am back, I'm happy & excited but seeing the accumulation of the chores on the net, I'm quite petrified.... :O And that in turn has been pushing me towards being unenergetic.... :(
It is always said that a break rejuvenates you & brings u back to life..... But with me it has always been the other way round.... I tend to get lethargic!
मैं ऐसी क्यों हूँ????????
Well! In no mood to write more..... Would just come to the point!
Before I left on my trip I made a card for my brother on the occasion of Rakhi! Though a simple one, I was in love with it by the end..... Here it is for you.... I hope you like it too..... :D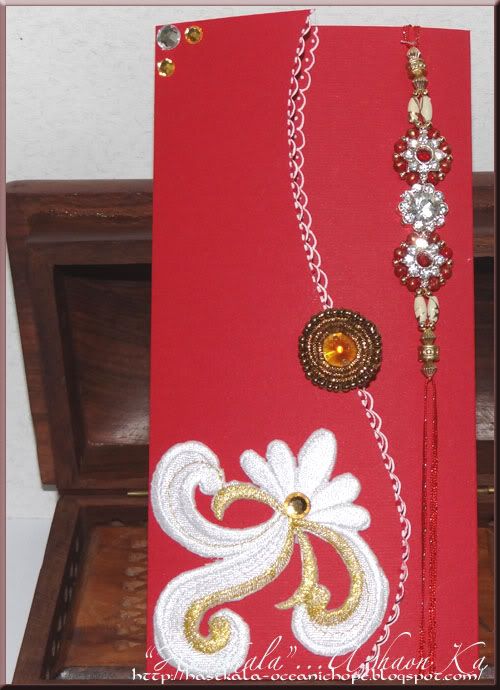 Challenges It GOES INTO:
TPE
for Photo Inspiration....
All Sorts Challenge
for Being Framed....
Cards For Men
for Anything Goes.....
DYSU
for Boys in our Lives.....
Prep:
Red CS from Fabriano...
Frontal Flap was designed & cut by hand with the help of scallop designed scissor.....
Doodled on the scalloped edge with signo ball white pen....
Adhered the embroidered patch onto the side of the flap to keep it framed.....
Adhered some gemstones on the corner of the flap & a gem stoned embellishment on to the center of the framed border, which again connotes a RAKHI!
Attached the Rakhi on the overlapping flap on the inside, which added oomph to the entire creation......
Replicated the doodled frame border on that inner flap too that creates a notion of a vase.....
Heat embossed the PTI - Round & Round frame in white, with the sentiment from the same stamp set in gold.....
That's it with the Rakhi card... Will be back soon with other clearances..... ;)
UNTIL NEXT, KEEP THE FAITH!!!!