Hello Everyone!!! Off-late posting has been a fortnightly affair..... Looks like ICR Challenges & Hastkala, have been walking hand in hand..... :D I'm still trying to keep them away from each other, but in vain...... :(
Past couple of days I have just been busy..... Mostly out of home marching down the corridors of a mall or eat outs..... With the month of August around the corner, I always end up doing this.... My hubby plans out loads of surprises & I would be on my toes running around having fun! And through out the day I hog on everything that I am amazed with..... End of the day, I'm exhausted with my heels hurting..... And I fall flat around at home, like a binged cat..... I then rest gearing up for the next day! :D So.... Tomorrow is another NEW day!!!!
Hence thought before I go totally spent for today, would post the new project for the BRAND NEW Challenge at ICR!!!
For the first time we have a Sketch Challenge at ICR..... The sketch has been created by Smriti of
Ribbons, etc.,
And we are once again sponsored by
Create Me Pink
, with another drool worthy SU! stamp set..... Here is the Challenge Pad for you.....
As always we have a COMBO FUN too!!!! This time it is 'sew' easy......
ICR CHALLENGE 8:
Follow the Sketch & Sew some fun on your projects!!!
Here is my inspiration for ICRC8..... I had real fun with sewing.... I had not attempted some decent sewing on card till date.... hence challenged myself to it & have succeeded in pushing the envelope.... :D And with the emphasis on sewing, I kept the card simple to accentuate the 'SEW-IN' fun!!!
And I thank.....
ICR
for the Sketch.....
Embellish Magazine
for the DP Color Trends....
The Prep:
Cream CS for the base & Layer from Stampin' UP!.....
Framed the layer with a DP from a scrapbooking kit I won at Inspired Crafters.....
Eyelet border punch from Stampin' UP!
Circle & Dots stamp set from Inkadinkadoo....
Scalloped Circle Die Cut for the popped up layer....
Label Tag punch form Stampin' UP!
Sentiment is a stamp from Close To My Heart, a RAK from B.....
Brown brads from SU!
Faux Stitching on the sentiment label.....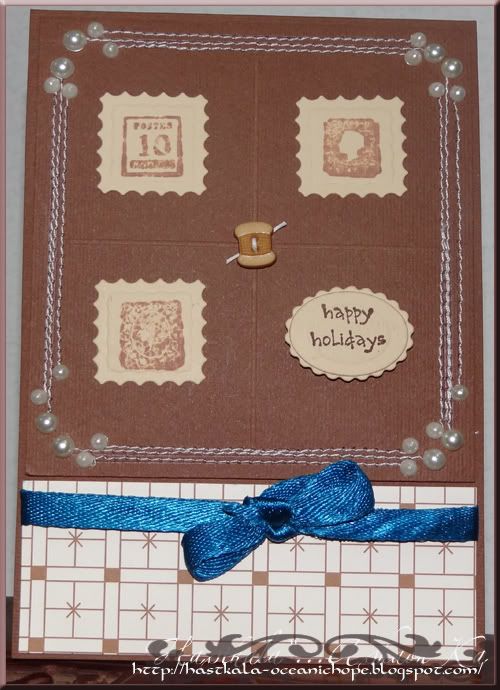 The Prep:
Chocolate Brown CS for the base & Layer from Fabriano.....
Sewed the pattern with Genome Sewing Machine
Halved Pearls from Itsy Bitsy....
Image stamps are from TPC Studio (Travel The World)....
Ribbon from Stash....
Inverted Scalloped Square Die Cuts for the inchies.....
Die cuts for sentiment, cut with nestabilities....
Sentiment is a stamp from SU! a RAK from E.....
Layered Cream DP is from Itsy Bitsy.....
Spool Button is from Itsy Bitsy.....
Do stop by
ICRC8
, for all the 'SEW-IN' fun!!!All demotivated souls must challenge yourselves to it..... You would stand impelled by all the DT creations, with their creative interpretations..... :D
Hope to be joined by ALL!!!!
UNTIL NEXT, KEEP THE FAITH!!!!