Hello Everyone!!! Finally set to clear my backlogs once & for all.... To begin with posting all my RAKS I received last month....
***WORD OF ADVICE***
INTENSELY GRAPHICAL POST!!!
Firstly
Friendship Day
(AUGUST 7th)
card I had received from Khushboo (Jumping Jack)!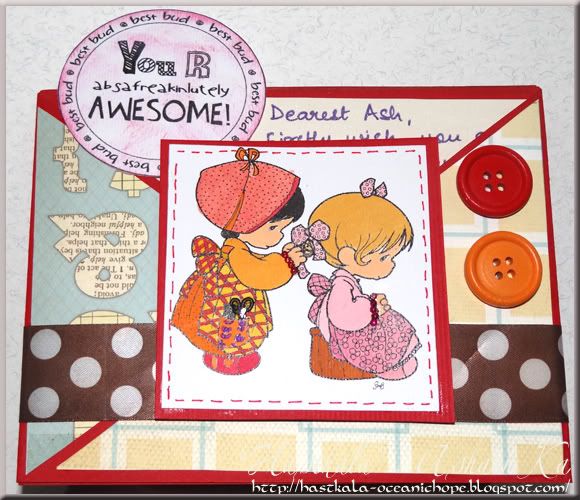 I was amazed by this surprise I received in mail..... I was rather shocked! Felt good to check out Khushboo's creation in person..... Loved the neat clear lines on it..... To feel the embellished bracelets & the pair of scissors, was a good thing.....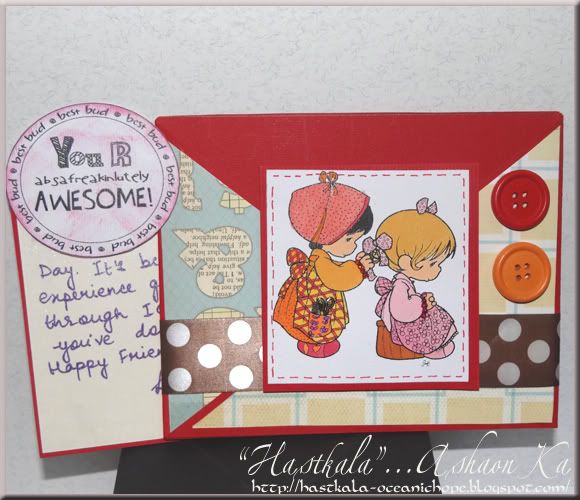 Loved the choice of colors & elements on it.... Thank You so much Khushboo for that gesture, which really moved me..... Warm Hugs to (((YOU)))!!!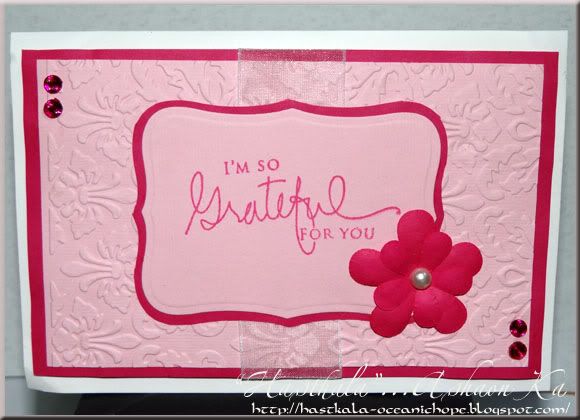 Received this cool pink card from Tejal deary..... I had checked it in the ICR gallery, but to see it in person was a pleasant feeling.... I admired the strong card... All elements so perfect in their place..... My heart went out to the thoughts she poured on the inside... Both you & your card will always find a special space in my life..... I'm glad to have known you too..... :D
I simply love the way I feel when you say "Kya Hua???" May be sometimes, I tend to sound low only to hear this..... Love you!!!!
BIRTHDAY RAKs: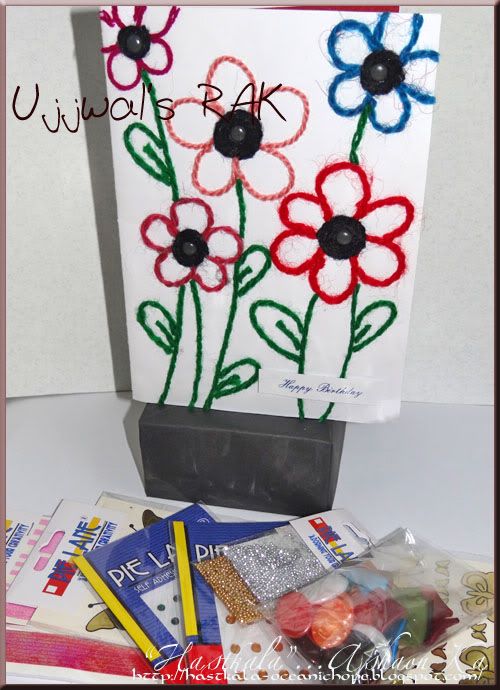 And this pool which I received from Ujjwal, in the context of my birthday, was something I was totally stunned with.... I had no Pie Lane products till then & to have been surprised by this RAK, was droolworthy!!!! The card was so very innovative totally done with wool..... And it was so very secure with no loose ends..... Kamaal Tha!!!!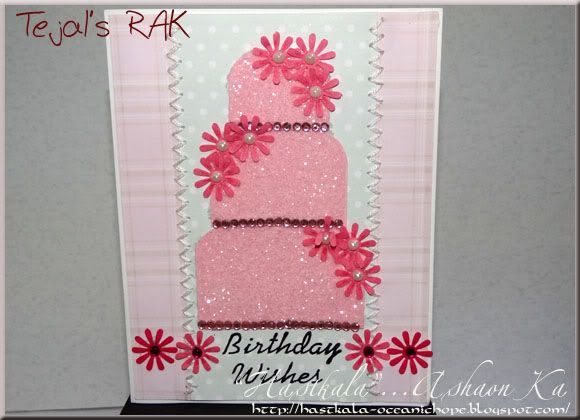 I had drooled over this display of cake in the ICR gallery & to have received it on my birthday was so heart warming & filling too..... :D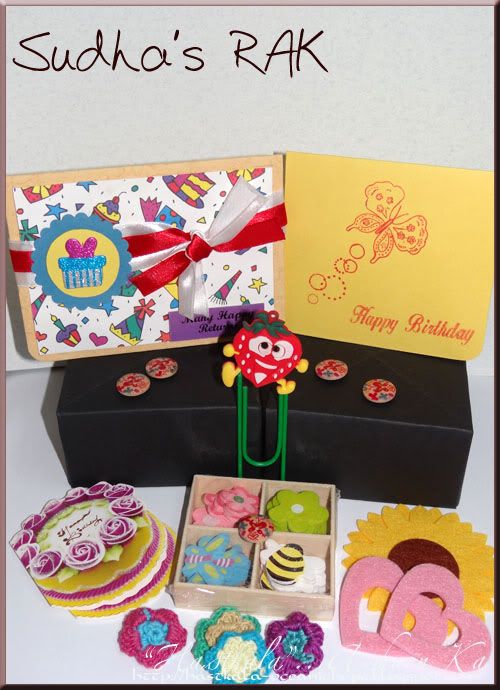 I was out on a small vacation far away at Ranchi.... And I received this bag of goodies from our dear Sudha..... Loved all the yummy stuffs she sent across to me.... I really hope I would be able to use them all very soon on my creations.....
I was amazed to have received a card on behalf of ICR.... Thank You so much Sudha for that thoughtful card u sent.... I loved the image a lot with those bubble trails... it is a very simple yet beautiful, to the point card.... I felt proud that you are with us at ICR!!!!
A cool card from Spardha..... Totally unexpected!!! I liked it a lot with those simple elements making for a great card..... Simply Spardha's style.... Thank You so much Spardha for that thoughtful gesture..... Wish you all the very best for a bright future..... (((Hugs)))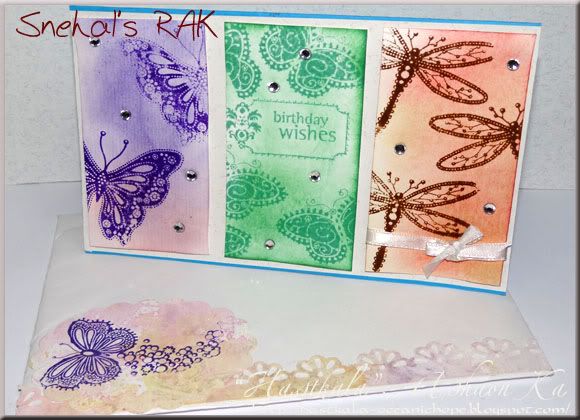 This amazing piece came to me in my absence, all the way from Uddhampur!!! Thank you so much Snehal for your sweet wishes & the gesture..... The card was accompanied by a Table Runner too..... which I have proudly hoarded..... ;) Love ya!!!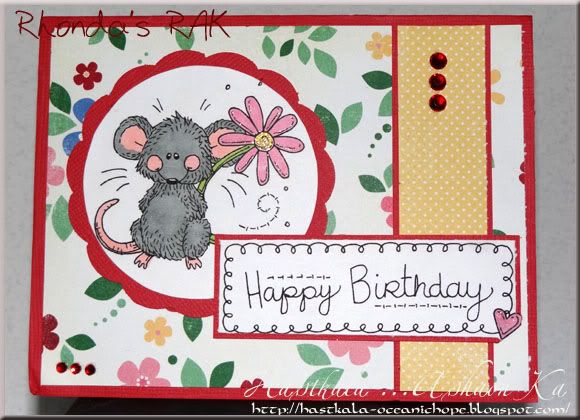 And this one came from Rhonda..... I was surprised by this RAK too.... As it was again unexpected..... But thankfully that gives me a taste of Rhonda's work..... A very warm person with a warm gesture.... Thanks a ton sweetheart..... I am totally floored with the way you make me feel at TLL..... Internet has certainly made the world a smaller place, for all of us..... :D
And here comes all those innocent works of ART from my tiny tots!!!! My nephew & nieces..... were all busy after their class during the weekend.... All so engrossed in making these for me.... My nephew dedicated a song for me that he quite likes & hums always..... He is 6 years old & here goes the song,
"Aate Jaate Khubsurat Awara Sadkon Pe
Kabhi Kabhie Ittefaq Se
Kitne Anjaan Log Mil Jaatein Hain
Unn Mein Se Kuch Log Bhool Jaatein Hain
Kuch Yaad Reh Jaate Hain
Unn Mein Se Kuch Log Bhool Jaatein Hain
Kuch Yaad Reh Jaate Hain.. "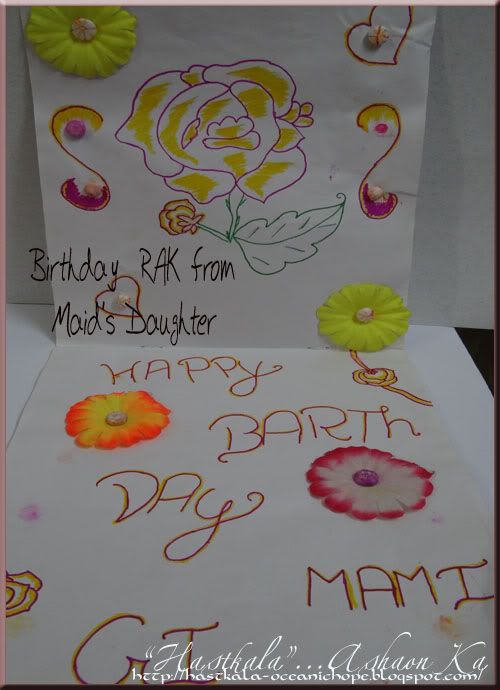 And this was given to me by didi's maids daughter...... I was truly touched by her sweet gesture..... She goes to school & is in the second standard....
BROTHER MADE CARD!!!!
And one last element of SHOCK to me was this card made by my brother.... I say this because he is a Graphics Designer & he had made digital cards for me... But a handmade card!!!!
Was something really shocking.... More so because though it was his first, it was not at all amateurish!!! Had those elements which I started with, during my initial days..... And he never inquired me for any info as such.... Independently made with clean neat lines..... No hotchpotch!!! What so ever..... Hats Off!!!!
Even now it is unbelievable for me.... I'm still in awe of that creation..... :O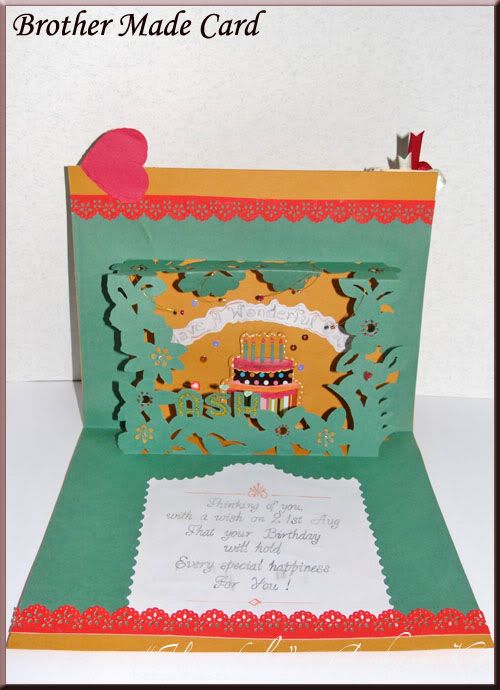 A pop up card, which I have not attempted till date..... And he has done it with such ease..... Kudos!!!!!
He should be made part of ICR very soon, I guess!!!! ;)
On the whole this birthday was ONE of many such memorable birthdays, that I fondly treasure in my memories.... With so many wishes from my new Crafty Buddies & my family, LIFE FEELS SO WORTH LIVING!!!!
I know you must be all tired looking at the array of cards in this post...... Not over as yet!
PICTURE ABHI BAAKI HAI MERE DOST!!!!
Will be back soon with the rest to clear....
UNTIL THEN, KEEP THE WAIT!!!!