Hey!!! As I said in my previous post, I'm back with a post dedicated to some customized projects I worked on recently.....
To give you an insight to it
, I took them up as they were very challenging & I had not attempted anything like them earlier...... I never worked on any customized projects with preset specifications, which acts as limitations to your flow of thoughts..... But even to be able to work wonders within such limitations, is a kind of challenge that I love in my life.....
'cuz limitations helps bring out the 'best in you' at times..... It becomes a hidden blessing for us to know our potentials.....:D
And with this project it had many such limitations in terms of time, pattern, source of info, specifications & most importantly the GENDER, I was making it for..... MASCULINE!!!!
It took me days to figure out how I started & once I did, it took time to execute my thought flow..... I had to curb my thoughts as there was no space or time for it.... :(
And the projects expected were
1) a PROPOSAL CARD
for
a MAN
from
a WOMAN....
2) An Album with flip flop pages, representing her fiance's 28 years of life...
with a box
!
3)Lettered Sheets of his name, with space for her to do some journal-ling......
So with the support & understanding of Kuku, I dedicated time & efforts of 4 days, & managed to complete it with satisfaction, but the nervousness prevailed with me wondering if I was able to execute her thoughts onto my projects or not!!!!
So here's some glimpse of my works..... :)
The boxed flip flop album, the proposal card & the lettered sheets!!!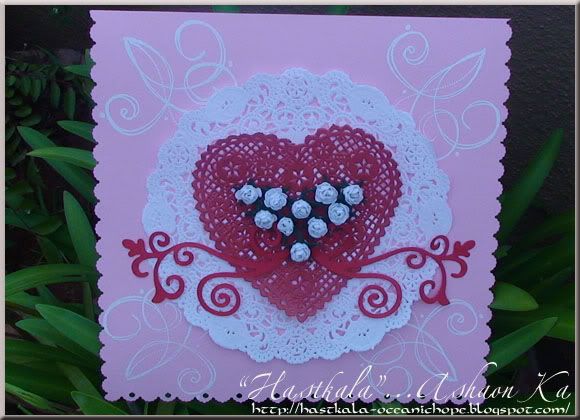 I embossed the flourish images for the corner frames on the card front......
Used the large sized doily I received from Maria Castillo during my secret Sweetheart swap...
The heart shaped doily was a RAK from B.....
Flourish are sizzix die cuts.....
Arranged the white roses with foamed adhesive backings in the center as she wanted a floral arrangement on the card....
And on the inside of the card she wanted a pic of a woman on her knees proposing the man..... Aah!! Very hard one....

Well!!!

Sandra Bullock

came to my rescue here..... I watermarked her image of Proposal onto the card.... :P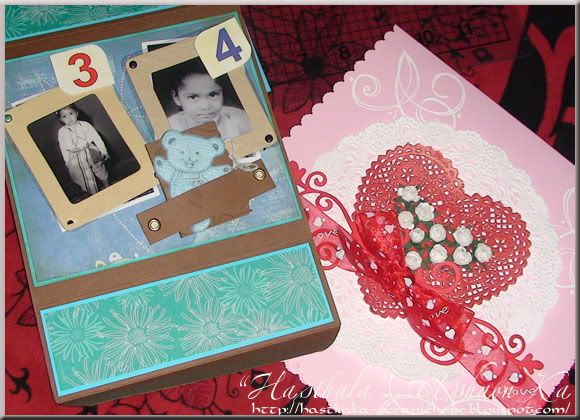 That teddy I added onto that tag card was a RAK from Tejal..... She was so kind to offer me few things I felt in need of, for the project.... but unfortunately just used this one teddy from the lot she sent across..... Thank u so much Tejal, as I quite liked it on the tag.... :) The ribbon I wrapped around the card was the swap I received from Romina...... :)
And now to the RESULT!!!
An overwhelming response!!!!
I met the client to hand over her order... She was but obviously excited to check them all out & looked forward to seeing them & having them in hand.....
As soon as she saw the card, she pulled me over & planted a kiss on my cheeks!!!
Aaah!!! That feeling was like a never to be forgotten moment in my life & the one to be treasured as well.... And nothing else mattered to me after that..... I could see my efforts serving the purpose..... I was moved for sure by this gesture & it goes without saying, 'cuz I'm very emotional.... All that it takes is a TOUCH to my heart..... And then there is no way that I would not feel for at person..... They become a part of me, from then..... :D
She even said, if I were a guy & I gave that card to her proposing my love, she would have broken the shackles of an engagement too, if she had to..... What more can a crafter be appreciated with, for the efforts & passion she puts into that creation of hers.....!!!!
She went through the rest of the stuffs too & was simply amazed by the album..... She loved it so so much that it is hard to express those moments I had with her....
We had some lil talk & she was eager to meet Kuku (
my hubby
).... Her words were

" Now that we have a relationship, I wanna meet the person who has such a passionate & talented wife"

..... :O
I was seriously flattered & so was my hubby.... My hubby left the 2 of us again with our girl talks over a cup of coffee!!!!
She was moved with a card I added on to her order, for her & her fiance, with a note of love & wishes....... The one
HERE
& I had mentioned then, that it was for a girl to be wedded soon....
On the whole that was a day which was so very full of love, happiness, appreciations, emotions & to top it all so full of celebrations!!! My hubby treated me with an ice cream treat post lunch, celebrating this feeling of content!!!! (
My favorite Litchi with Ice Cream
)
I LOVE MY LIFE!!!!!!
Touch-

Wood

!!!!
Since I could not capture the entire album in terms of pictures, I thought a video of it should be apt.... So here it is.....
Would love to hear of your thoughts on it too..... :D
Would be sending my card across to following challenges......
(Though not inspired by them, it satisfies these challenges)
StampTV
for the Wear Your White!
SSDS Challenge
for Photo Inspiration
Delightful Sketches
for anything Goes....
Thanks for not losing your patience amidst my blah! blah! blah! about the entire episode.....
Hard for me to express how much I appreciate your words & thoughts, in my life.....
(((Warm Hugs))) to ALL!!!!