Hello Everyone!!! Back with another creation after 15 days..... Seems a trend now with me..... I have just been creating fortnightly, which makes me sad many a times...... But I'm not hopeless! Still hoping to overcome it & I pray that I be successful in it..... :)
Again just an inspiration for the current challenge at ICR......
ICRC6!!!!
Just had no clue when the RAINS passed by & it was time to Create Pink!!!!
Yes! Very soon the ICR gallery would be painted pink & even imagining it makes me PINK! ;)
THE CHALLENGE :
Pink
on
Pink
- Monochrome Project!!! (Neutrals of Cream & White are okay, but NO BLACK!!!)
The Combo Twist is to use a line of embellishments in terms of a row or a column from the Tic Tac Toe grid chart!!! So Do TICKLE YOURSELVES
PINK
!!!!
And below is my inspiration for the challenge......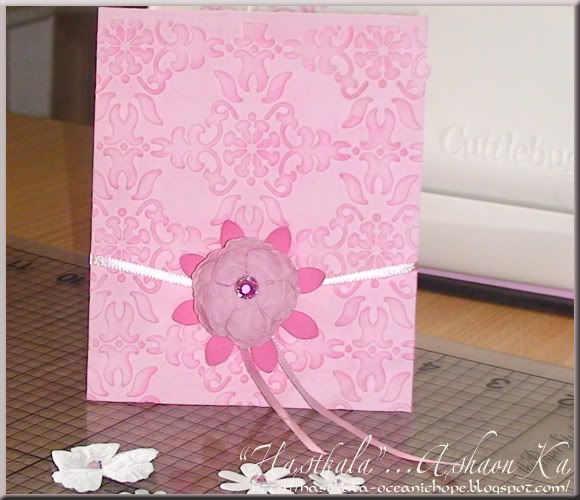 And I Thank.....
CPS
for their CAS Sketch.....
ICR
for its color & theme......
ABC Challenge
for Crossing Ribbons...
All Sorts Challenge
for Free & Easy....
365 Cards
for feeling Punchy.....
The Prep :
Pinck CS for the base from Fabriano....
Vintage Wallpaper Embossing Folder from Sizzix....
Pretty Color Stamp Pad in dark pink for the light rub on the embossed design.....
Punched out petal on which this handmade flower was adhered....
Gemstone in Pink from stash....
Ribbon from Stash.....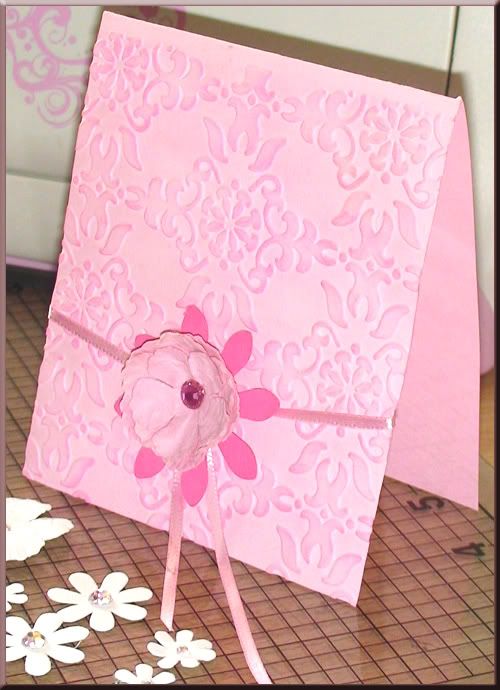 That is it for now...... Will be back soon with another project after a sincere try!!!! :)
UNTIL NEXT, KEEP THE FAITH!!!!