Heya!!!! Welcome Back.... :D
November 5th was pronounced as DIGI DAY celebrations at
The Crafters Cafe!
In order to mark the celebrations TCC has put forth few challenges for all their crafters..... And I personally love the varieties in their challenges.....
To begin with this post is dedicated to the first on the list...... The Gift Wrap Challenge.... :D
I literally managed to send in my inspiration on time..... All thanks to my ill health :(
But for me it is Something is Better than Nothing!
So here is my inspiration for you.....
Would love to link it up to these following challenges too.....
SSDS
for Wrap It Up!
Secret Crafter Saturday
for Flowers, ribbon & Lace.....
All Sorts
for anything but Square....
Crazy 4 Challenges
for Wrap It Up!
The Prep :
Orange CS for the Lid from Fabriano....
Chocolate Brown CS for the base box from Fabriano....
Part of a Doily Lace.....
Golden & Silver ribbons from stash.....
Satin Ribbon flower from a local store....
Sentiment is from Fiskars.... Stamped with Wall nut Stain Distress Ink & Hand cut!
Now you may ask, what's inside????
Sure.... It has the
Domino Book
I made for Tejal on her Birthday......
Craft Challenge
for Board Games....
The traditional DOMINO BOOK is supposed to have a set of dominoes..... which unfortunately I did not have when I attempted this project..... But since I was desperate to try that for HER, I thought of a set of PUMICE STONES I had
(unused of course ;)
.... All went well with them..... But towards the end once I attached them to the accordion fold CS, ran the string around & pulled them with a slight pressure in order to secure the book tight..... there went a
'tsk!'
Pumice Stone cracked..... ! I was mad for almost an hour..... but remaining so would not have helped as I had to complete it somehow or the other..... :(
Then I turned towards a regular card board backing for it.....

Pulled out some Halloween DPs & Flourish Sticker, which were RAKs from B......

Some Pie Lane butterfly stickers which was a B'day RAK from Ujjwal.....

Twine & round wooden beads from stash.....
Pearls were a RAK from Tejal, herself.....
Scalloped Oval Die from Nestabilities.....
B'day present image is a stamp from Fiskars....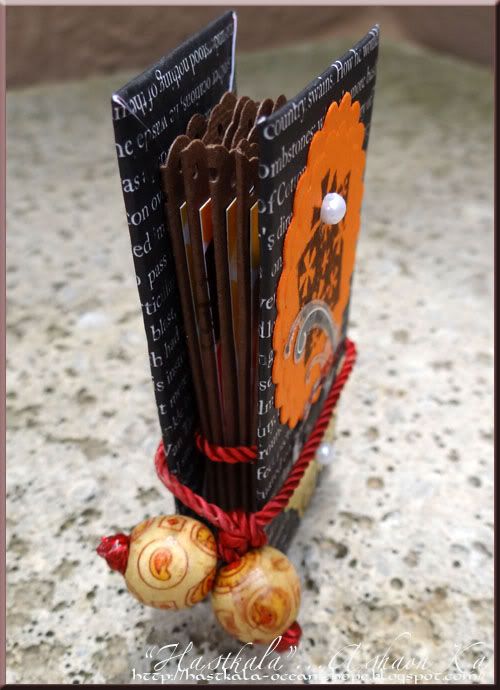 INSIDE:
Accordion folded CS is from Fabriano.... in Chocolate Brown!
Polka Dots are Halloween DPs, a RAK from B...
Punched the edges with the SU! Scalloped eyelet punch....
To check out the complete project CLICK HERE or HERE!

So these were the projects that went to Tejal on her birthday..... :D
Will be back soon with another project for TCC.....
But you do join us at The TCC November Digi Day Challenges!
UNTIL NEXT, KEEP THE FAITH!!!