Hello...
Am back with the month of August & its awesome happenings on ICR...
Yes there is a lot happening this month.... Would scale them all down one by one by the end of this post... but for now to begin with as you know its regarding the projects worked in this time span.... So with the beginning of the month it is of course the ICR CoasteRide!
ICRCMON02 is up & running & here is a brief discussion on my project created for the same....
But before that lemme let u know what It is....
And here is my project for the CoasteRide....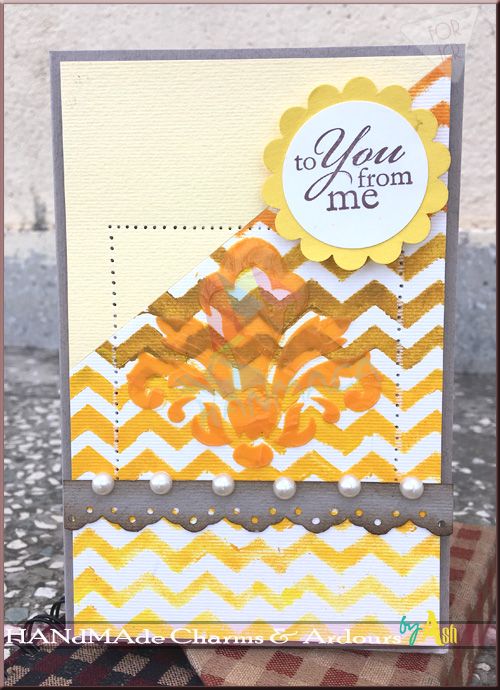 And am thankful for the sketch that inspired me from MFT Challenge & Inspiration....
Grey CS from Fabriano for the card base...
The layered panel is a concoction of two different CSs ... Cream from Fabriano + White picked up Itsy Bitsy....
And that white was the CS i worked over for this project.... MONOCHROMATIC.... & my favorite color from the palette of colors is YELLOW... And I did wanna focus on the hues of yellow for this project...
I hence picked up few different shades of yellow from Itsy Bitsy... Camel bottles & tubes...
And a texture paste from Mont Marte picked up from Itsy Bitsy...
And yet another favorite to my kind of designs is CHEVRON.... No clue why I so love it... right since childhood... I remember few lovely & my favorite salwars suits which are now no clue where... distributed...worn out.... especially in the shades of black & white.... :D
So yes I picked a chevron for stencil from Itsy Bitsy & of my other favorite design DAMASK...
I first played with the different hues of yellow on the chevron stencil placed firmly on my white CS.... After which I replaced the stencil with the damask design on the CS & pasted the texture paste I had mixed with one of the hues from yellow....
I set it aside to dry overnight....
I wasn't satisfied as yet with the hues of yellow on my CS... I wanted more... hence I cut a piece out of my worked over panel & added another plain piece of cream CS to compliment the hues of rich yellow....
I liked the way it looked & felt satiating....
Adhered them all to the card base & pinned out the holes for the square to go with the sketch
And completed the project with the stamped sentiment on a piece of circle over a scalloped circle
& a punched out piece of border from stash embellishing it further with some halved pearls from stash....
I wanted all the yellow to entice my eyes... hence ended it all there....
I hope you would also take this ride to Anything Monochromatic this month for ICRCMON02!
AND REGARDING THE OTHER HAPPENINGS ON ICR.... Yes, Find the details below....
ICR has announced their 2016 Designer Auditions...
If you are keen on being a part of the team do apply.... Find the DEETS HERE!
ICR also has its ICRSwop announced for August.... A very creatively interesting swop you must partner to...
And not to forget there is this wonderful & enticing ATC swop too.... ICR ATC(India) for August!
Hope to see you at ICR!
UNTIL NEXT, KEEP THE FAITH!!!