Hello!!!!! Up with few challenges, again.....
Oh! I enjoyed making this card.... to the core..... I loved the appreciation I received from Kuku (Hubby)...... He loved it totally..... I was quite happy too, with what I made of all these awesome ideas & challenges put together...... I love the thought that I was improving......
Hmmmm..... This is what I came up with.......
All thanks to ........
Michelle
from
Card Patterns
for that awesome & challenging sketch
Jennruggeri75

of Crafty Creations for the very Challenging

ONE COLOR THEME

- Shades of the same (Hat's Off!!!!)
Vicky (AngelDrummer)

of ABC Challenge for their unique & my first time, Paper Piecing (Hat's Off!!!!again)
Certainly not the least.....

April Rose

of Fussy & Fancy Friday Challenge for the lovely theme of 'Any Movie'........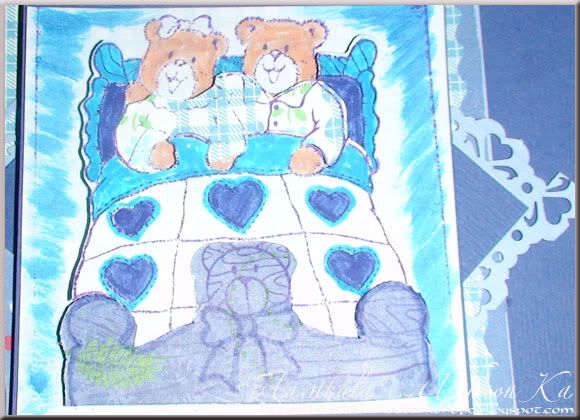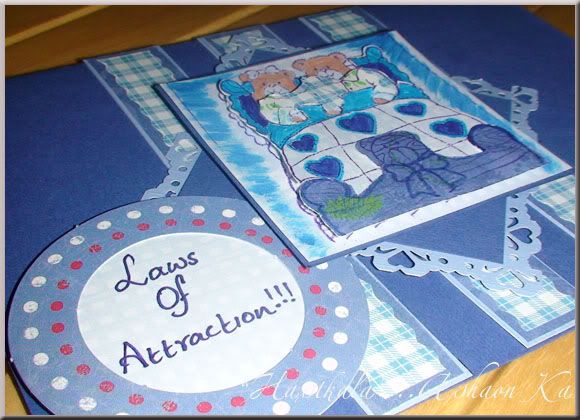 The basic card stock I used is dark blue...... (for the one color theme, which is blue...

)
And for the strips I overlapped a light blue card stock with two shades of blue designer papers.......
I punched out border on the light blue card stock on which I mounted the base dark blue card stock piece......
And then on the light blue card stock I stamped the picture I had from hobby ideas...... which I stamped again on the designer papers for the challenge of paper piecing, instead of coloring the clothes, quilt, pillow & cot......
I colored the face with a sketch pen... & water colored the sides of the background a bit.....
I retrieved the punched circle I had, where I scooped out the inner circle & pasted a squared piece of paper for sentiment..... &
of course,

the sentiment is hand written

...... in

BLUE

!!!!!
That's it for now......
UNTIL NEXT, KEEP THE FAITH!!!!!!