Oh!!! All these awesome challenges are really challenging me to the core...... I wanna attempt each one of them in ONE project, but in vain.....
I faced this difficulty with the color themes but failed...hence had to drop one of them
.... But would surely attempt it in my next...... :-)
Here is the card..... It was that lovely sentiment of Mothers Day!!!!! I wanted to make one for my mom, too... But somehow nothing seemed convincing, even after it was attempted & done..... Still I feel something is missing or like it is not apt... or this was not what I wanted to make..... I don't understand what's wrong & where..... But still I am here posting it...... I
would try another soon
...... Very Soon!!!!!! So just WAIT & WATCH!!!! for my next........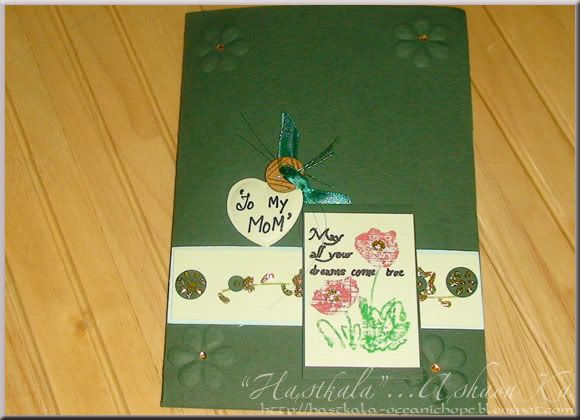 I'm sincerely thankful to all the Challenging Ideas, put forth by

......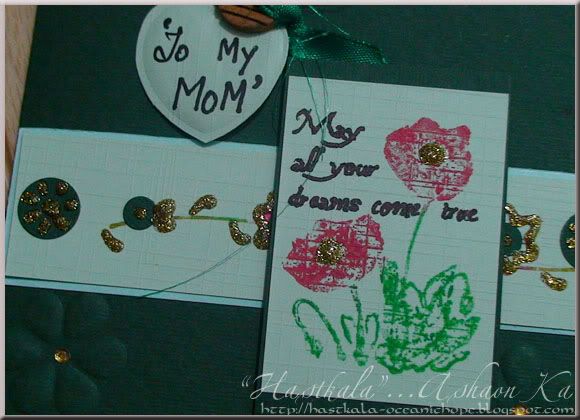 Trimmies Craft Challenge for the theme of

Mothers Day with Flowers

......
Stamp, Scrap & Doodle Saturdays for the theme Sparkle & Shine!!!!
The Pink Elephant Challenge for the theme of Add Green To Your Color Combo....
Simon Says Stamp for the Mothers Day! theme...... &
All Sorts ... again for the On GOING theme of Mothers Day.....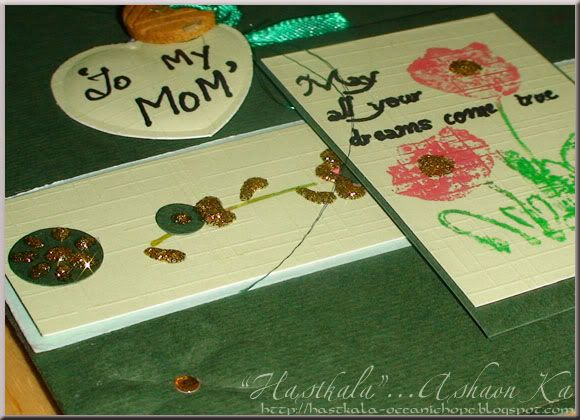 Kindly accept my heartfelt thanks....ALL!!!!!
I used a

dark green card stock

for my base.... On which I

embossed flowers

for the first time - On the Card..... My hands ached as it takes, all the strength one has, to keep it fixed.... By the time my hubby returned from the work.... I was waiting for him sobbing as I had a very

bad catch in my wrist

because of my wrestling...... He just massaged my wrist a bit hard...... & Voila! It took the whole day for the veins to relax..... ;-)
I used the
dark green card stock & a lighter shades
of the same color for the overlaps.......
I stamped the
Hobby Ideas flower
on the card & a
creeper
on the other, which I later filled & covered with few
punches & glitters
.......
I used a piece of the
green ribbon
to hold the
button & the embossed cut-out
, sentiment, together..... which I stuck with the help of a dimensional...... I even tampered with the ends of the ribbon so that it would throw few strands out..... ;-)
And the sentiments are .... Of course, Hand Written...... :-)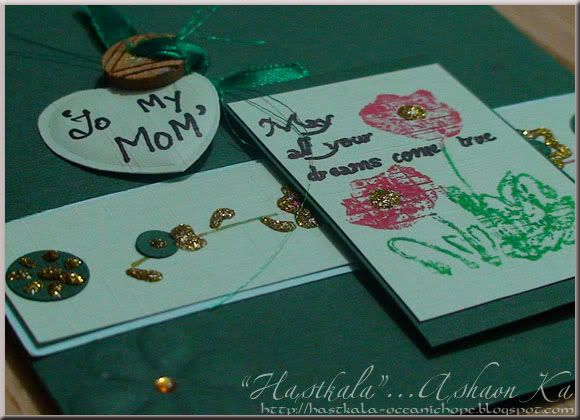 So that is it for now.....
To My MOM!!!!! Only Mine!!!!!!
WITH LOTS OF LOVE!!!!!
UNTIL NEXT, KEEP THE FAITH!!!!