Hello..... I made this card in a hurry again..... Just that I was feeling down & wanted to make something to brighten myself up..... So here it goes......
And I thank.......
Sweet Sunday Sketch Challenge
for their simple & nice Sketch....
StampinWithStacey
for their throw of cool colors.......
ABC challenge
for Quotations!!!!
Secret Crafters Saturday
for SPRING!!!!
Our Creative Corner 6
for SPRING!!!!
All Sorts Challenge
for Spring!!!!
Color Create Challenge
for Spring!!!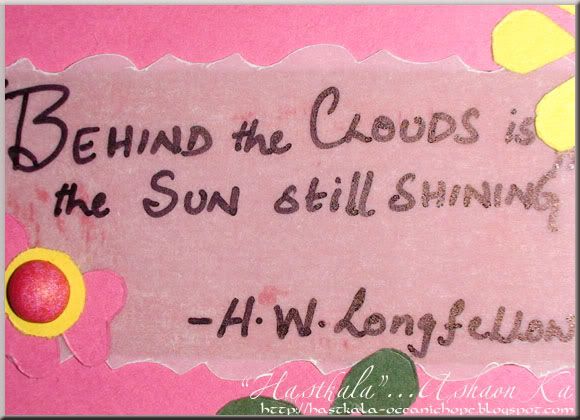 I used a red cardstock for the base
I used a yellow & pink cardstocks for the layered panels & a printed paper too.....
I used yellow & pink cardstock papers for the flowers which I cut after I drew the petals on them....
I used the halved thermocol balls for the centers of the flowers....
I used a yellow ribbon too & finally the Quotation for the handwritten sentiment.......
I did not wanna mention the creeper or whateva! that green piece was.... I wanted it to be a creeper, but my bad! It looks kinda messy to my eyes.....
That's It for now.......
UNTIL NEXT, KEEP THE FAITH!!!!!