Heya!!!! Have been doing nothing much so far.... Hence no new projects as such.... But I had to play & post this one challenge that I wanted to participate in.... It was a simple one, where we had to just blog about a past project or rather the first project we blogged which included something from around the house..... Is it not easy & fun too.... So, I did not wanna miss it.... It was in my mind since so many days, but as usual I only wake up the last moment.... So with still some time left, I thought, now, that was it!
Well the author of the blog, took the opportunity to start off with a dedicated blog for the challenge....
FlashBack Friday Challenge!!!!
That was an alarm for me to POST NOW!!!!
And with this Amy, the author of the blog, hosts an interesting & yummy giveaway too.... What more could I ask for??? Fun! Fun!& More Fun!!!! :) Details
here
......
So here I am.....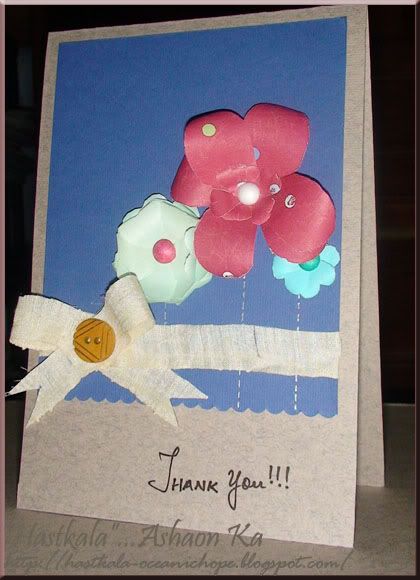 This was posted in the month of march, previous year.... Under the Title
Thank You!!!!
It was those days when I had just started off with my card making, with a PRO approach.... Well I did not have stuffs for it though! I had to use an embellishment for the center of the flowers.... I did not have any brads... I looked around & I found this small package of some leftover thermocol balls, that were lying around from some gift packing I did....
It really sailed me through with many of my projects..... Thanks to the light that lit up in my head then,
TINK!
;)
Once I used them here, there was no stop, till I could find better substitutes.... I have more stored in a box.... Looking forward to use them all.... Someday, somewhere ;)
As I said above it goes to
Yvonnes
challenge @
FlashBack Friday Challenge blog
.....
Hope to be back with some new projects this month.....
UNTIL THEN, KEEP THE FAITH!!!!!