Hello Everyone!!!! I hope the new year is bringing its best for everyone..... For me it did, in terms of few wins around..... Aah! I'm loving it!!!! :)
And guess what I had not made a new year card till date.... Hence thought it was high time since I decided on one & sat down to finish it in just 10 minutes.... Voila!!!! That is the quickest till date.... All thanks to those Clean & Simple ideas that guided me through..... Well! Here is the project making it's way to few related challenges..... :)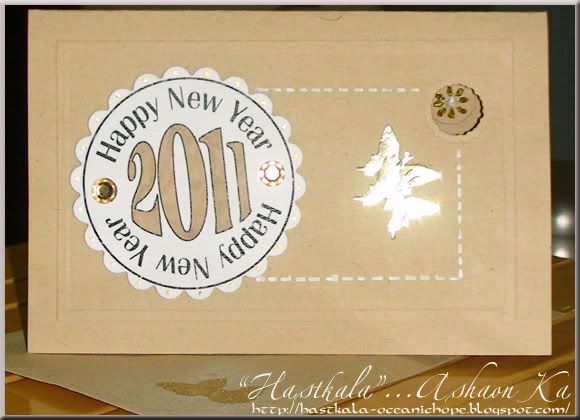 And I Thank......
Cardpositioning Systems
for their simple but elegant sketch.....
StamptacularSunday Challenge
for their Photo Inspiration.....
PaperCraftStar
for their New Year Resolutions....
CreativeCardCrew
for their New Beginnings....
PileItOn Challenge
for their Brand, Spanking New!!!!
Simon Says Stamp Challenge
for New Beginnings....
PaperTake Weekly Challenge
for Anything Goes....
MyTimeToCraft Challenge
for Up In The Air!!!!
Flutter By
for Open with Butterfly....
The Creative Cottage Challenge
for Something New....
PaperPlay Challenge
for Clean & Simple.....
Stamp Something
for Digi Challenge.....
The Secret Crafter Saturday
Challenge for Textures....
Pink Paper Paradise
for Inspirational Entries....
Digi's With Attitude
for New Year Resolutions!!!!
365 Cards
for Romance.....
My New Year Resolution is to bug The BUG!!!!!
Yes, my New CuttleBug..... Aah! I love it so much..... ;)
And I hope to make the year, really happy for both me & my dear ones..... :)
Modus Operandi.....
Tan blank card for the base....
New Year Sentiment is a digi from delicious doodles blog.....
Colored 2011 with my new Bic Marker.....
Self adhesive Gem stone on either sides of the scalloped circle....
Punched out butterflies with my Itsy Bitsy punch, from a golden colored sheet....
Die cut the aperture with the nestabilities....
Pasted that die cut on the inside & doodled some petals with the frolic glue glitter....
Faux stitch doodle with white gel pen....
Heat Embossed the stamped butterflies from PTI, which was B's RAK, with golden embossing powder.... On the Envelope!!!!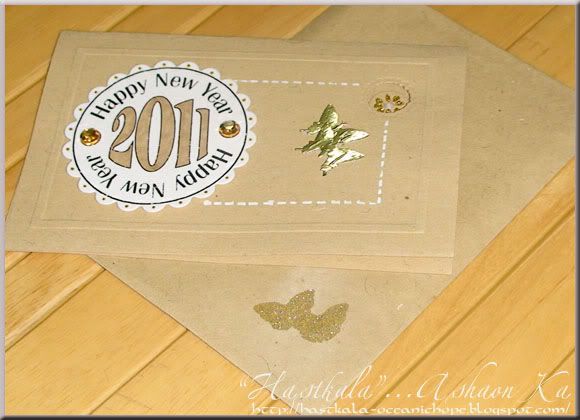 That is it for now.... Hope to be back soon with few more....
UNTIL NEXT, KEEP THE WAIT!!!!!