Hello!!!! It had been quite sometime since I really sat down to work on a project for challenge.... I am actually engrossed with so many other things on hand.... A project, which I was trying for the 'First' time & another major thing, which I was again not only trying for the first time but doing it all by myself.... Basically everything is just trial & error..... :) Just keeping fingers crossed, to see them really work..... :)
Here is my project I made for few challenges... I did not wanna miss on them.... ;)
So this is the one....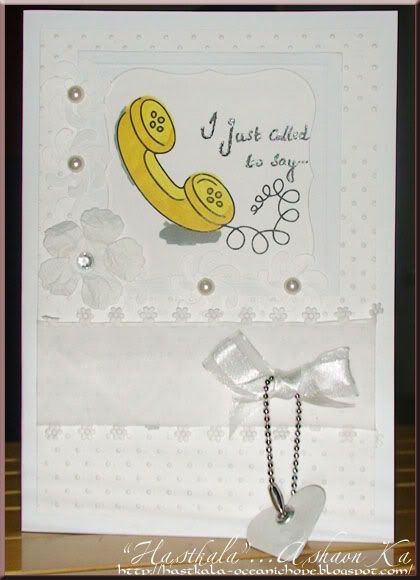 And I Thank.....
Inspired Crafters
for their Sketch....
DoubleDutchChallenges
for their Color challenge.....
JustAddInk
for Photo Inspiration....
VerveStamps
for Baby Love.... (
Special Someone
)
ReasonableRibbon
for Hearts & Ribbons.....
TheStampingBoutique
for Make Own Embellishment..... (
Heart
)
MamiDoodles
for Magic Of Love.....
Frosted Designs
for Monochromatic.....
Fussy & Fancy Challenge
for Valentine with no pink or red....
365 Cards
for Lovely Layers.....
PileItOn
for Love Is In The Air!!!
Totally Gorjuss
for As U like It....
SSDS Challenge
for Punchy....
PaperPlayChallenges
for Layer It Up....
Delightful Sketches
for Have a Heart....
InkyImpressions Challenge
for Emboss It!!!
MyTimeToCraftChallenge
for Emboss!!!
Crazy4Challenges
for a Shabby Chic element on card.....
Modus Operandi.....
White CS for the base & layered panels....
Dry Embossed the base layer with cuttle bug embossing folder....
Layer on top, I just scored the lines to give it an embossed frame....
Die cut the layer with the digi image, from TLC Creations.....
Colored the image with Bic Markers.....
Ribbon in white from stash....
Punched layers of blossoms, centered with a self adhesive pearl....
Ribbon tied in a bow was a RAK from E.....
White Blossom is from Itsy bitsy....
Punched heart shapes & adhered them together to make a thick piece of embellishment....
Inserted an eyelet into the heart shape & then tagged it on to the bow....
Hand Written sentiment on the image layer & a sticker which was B's RAK, on the inside....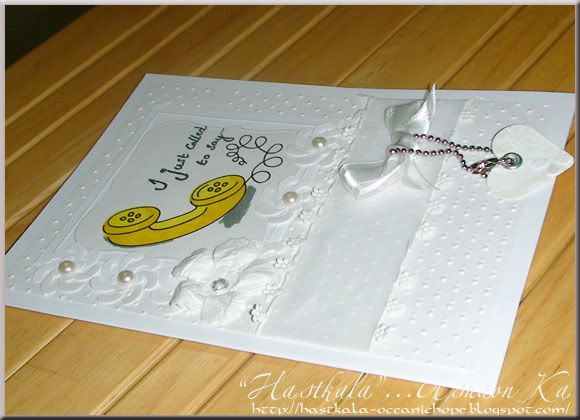 That is it for now.... Will be back soon with something interesting...... :)
UNTIL NEXT, KEEP THE FAITH!!!!!