Back again..... With the ATCs for March...... The theme for March was again awesome with the celebration of womanhood..... And for me it was really really special as it is my anniversary celebrations.... We completed 9 years of togetherness in a nuptial knot..... & loving it..... :)
So here goes the ATCS for March..... :)
Aah! As u can see, I did a lot of stamping & heat embossing on the card...... Added a scrap from an HDFC communication that was lying around... The woman on their cover... I had received my 'woman's sh! card' from them..... Sentiment on the inside is hand written...... It reads
"Why do ya wanna fit in, when u were born to stand out"
.....
Mostly I love all the yellow that commands attention..... Yellow is my favorite color... There is something to that color, that does not lemme get enough of it..... The more I see & use, the more I want it in my life..... :D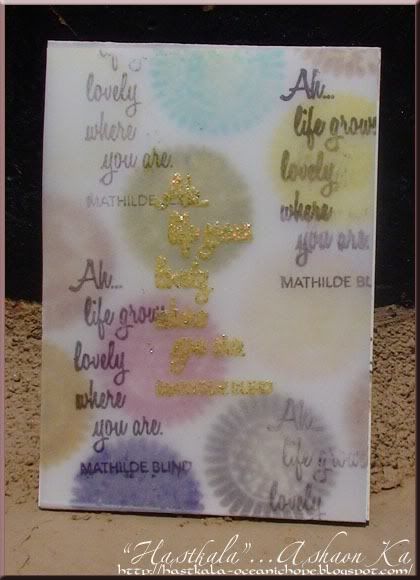 I like this too, a lot...... 'cuz of all the stamping & embossing again..... I love that gorgeous PTI floral stamp.... And all the colors I could think of stamping it in..... YUMMY!!!! I enjoyed the look thoroughly..... And the sentiment was a RAK from B..... which reads
"Ah.... Life grows lovely where u are - Mathilde Blind"
Aah! I forgot to tell u...... All that stamping & embossing on the front, was done over a parchment paper or vellum..... whatever it is called..... & I simply loved what I did as it turned out well on it..... On the first one I just left the overlay open to reveal the inside when opened.... But on the other I adhered it on to the card..... I liked the two experiments which got me to be more confident with using that material on my creations..... :)
ATCs RECEIVED: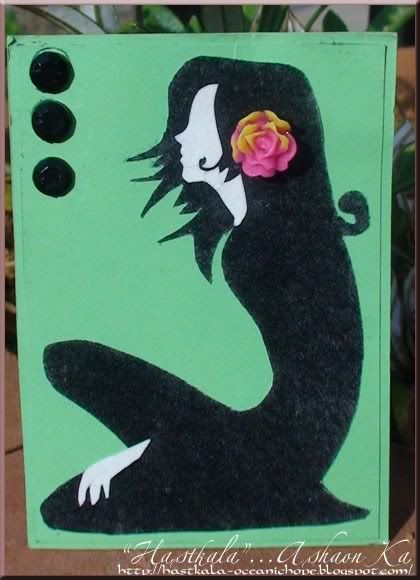 This is the Gorgeous ATC I received from
Ashmita Das
.... Truly feminine!!!! Loved the colors too... looks very mysterious..... Apt interpretation of a woman..... What Say????
And this beautiful creation is from
Priya Venkat
..... I love it loaded with layers all different from one another.... still confined to another blessing for a woman... her blah blah blahs!!!!! Be it to whoever she confides in, it gets her strong & stress free..... :D
And this was an extra card I received from Rachana for that one card from the Feb Swap, that missed its destination... And this card is from
Shubhra
... Very girlie with all the colors & flutter.... Thank u so so much sweeties.... :)
That clears all the backlogs as of now..... Will be back soon with some other infos.....
UNTIL NEXT, KEEP THE FAITH!!!!!