Hello! Have not been creating much..... Hence thought of clearing the ATC pile up...... SO this post goes with my Feb ATC swaps...
These were the ATCs I made for the February Swaps....... themed Valentine's Day!!!! Which was my favorite too as I was celebrating my 17 years of togetherness with Kuku..... And of the two ATCs I made for the month, my favorite was this.....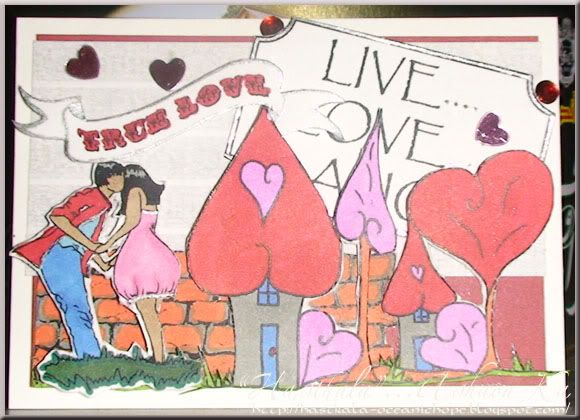 As I sat to work on this, thoughts just kept the flow, constant & I was happy the way it was turning out.....
This ATC was not just one element but several on the card
....
I added some blings & on the BG are all scraps...... Elements in the fore front are all digis..... I managed to create a scene by putting them all together, I picked over the net...... & was determined to use them somewhere when the time demanded its usage...... So they were..... :)
Live Love Laugh ticket is from Sentiments 4 you....
True Love scroll is a part of the digi from Birds Cards....
Gal Boy kiss from Fairy doodler....
Love Village from kreative-art-malwelt....
Wall from Greeting Cards by hand......
I could not thank the digi artists enough for those images & thank my coloring too which enhanced that creation of mine to be one of my favorites.....
This was a simple one as compared to the one above..... Just blings & scraps..... The hearts u can is the center part of an aluminum foil cup from the dominoes, I scooped out for my
first mini album
..... (
will post that soon too
)
ATC's I RECEIVED :
Unfortunately the postal dept. lost one of the ATCs that I had to receive in transit..... Waited another month for it to reach me, but still no trace of it..... Guess, I had to get a taste of their treatment too..... :(
But here is the only one I received.... It was from
Rachana Patel
....... :)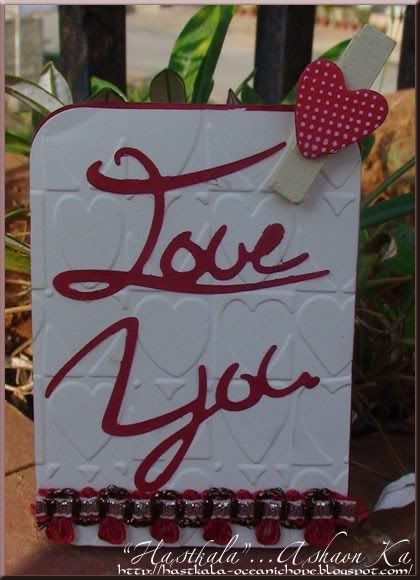 I loved the mini laundry clip with that heart attached..... Was so cool..... Thank u so much..... :)
Will be back soon with my March ATCs too..... :)
UNTIL THEN, KEEP THE FAITH!!!!!