Hello Everyone!!!! I know I have been absconding from my space...... Which is totally not right.... :( Phew!!!!
At ICR we are back with another colorful & inspiring challenge..... You must see to believe it!!!! It is very truly named as the
DHIN CHAK CHALLENGE
!!!!! LOL!
Dhin Chak is an Indian slang for something FLAMBOYANT!!!! Something that is rich & showy in terms of colors & dazzle...... Something RAAPCHIK!!!!! Eww!!! I find is word very loud!
Well going ahead with it, here is the challenge pad for you......
Is it not a Chakkas one!!! I'm sure it would tempt anyone to at'tempt' a creation based on the inspiration it oozes.....
Just get inspired with anything at all in the photograph, with an additional combo to be taken care of
..... You ought to add
at least one handmade embellishment
on your project..... Simple? Yeah?
Oh no! I had a tough time deciding what exactly I wanted with so much of inspiration in that photograph...... Too much is really too bad, sometimes..... Gets difficult to determine on one thing that you wanna focus on.... Takes a long long time..... & it did..... Took me half a day to finally decide on what I wanted to put down, on my creation..... ;)
Narrowing it down finally, here is my creation......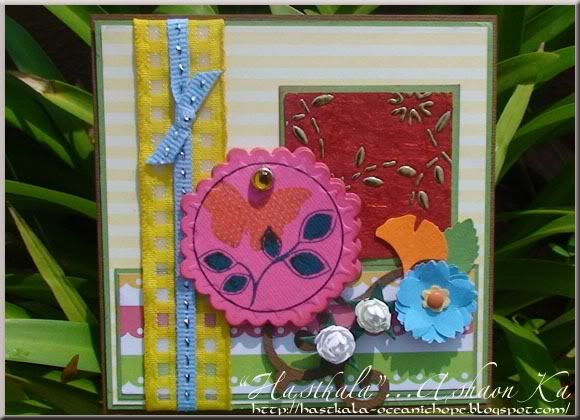 And I thank,
Sketch Saturday
for their Sketch.....
Delightful Sketches
for Masking....
Papertakeweekly
for Blooms....
StampTV
for Focus on flowers....
Prep :
Chocolate CS for the card base....
Green CS for the layers...
Lemon yellow DP in stripes from Itsy Bitsy.....
Golden embossed handmade paper in red from Timeout....
DP with scalloped border print from a scrapbooking kit.....
Ribbons from Itsy Bitsy....
Punched out flowers put together with a brad to make a handmade embellishment.....
Flourish is a big shot die cut....
Roses are from Itsy Bitsy....
Punched out leaf & flower petal.....
Scalloped Octagon cut with Spellbinders & held together with a brad from American Crafts....
It has a message underneath & the brad acts as the hinge keeping both the flaps together.....
Sentiment inside is from PTI.... (
Best Wishes
)
The Images are stamps from PTI's Round & Round Collection.....
IMP NOTE :
We would be posting a video of a project from start to finish for all the following challenges including the current challenge..... Do check it out to be inspired.....
I betcha!!! You should check out all the inspirations from the team & our Guest DT..... Do make your way to their works & check them all out.....
Tejal @
Creative Expressions
.....
Sudha @
Crazy Crafter
....
Anita our GDT @
Crafting Forever
....
Be sure to be inspired..... :)
And do check out the creations that were submitted & which made it to the top, for
ICRC2
......
That is it for now.....
UNTIL NEXT, KEEP THE FAITH!!!!!