Hey All!!!! Thanks again for those lovely & inspiring words of appreciation.... It only urges me to do better..... So I guess, I am on the right track..... ;-)
Hey, this time I kinda goofed up, with what I wanted to do... So I was not in a position to post this project before the
expiry of many of the MAIN challenges
..... But I thought, lemme still show what I did.... But of course it took me a day or rather a night for me to Okay what I did or wanted to.... Somehow I was not able to concentrate... So I dumped whatever I tried last night & re did everything today morning.... & since I was also held up with my chores around at home.... I am posting this very very late..... I am really sorry.... I request all those who threw these awesome challenges, to forgive my delay......
SORRY!!!!!
So here is what I have done..... (Finally!)
And I thank..... Well! that is indeed a BIG list.......
Card Patterns
for the cute Sketch.....
Hope Stamps Eternal
for their bright Colors.....
EBTKS Challenge
for their theme of String....
SSDS Challenge
for their Flights of Fancy.....
Our Creative Corner 6
for their Break Out Buttons....
Pink Elephant
for Anything Nature.....
Stamptacular Sunday
for Girlie theme.....
Secret Crafter Saturday
for Garden Related....
Stampinfor theWeekend
for Ribbons & Bows......
Ginger Snap Creations
for their theme of Growth.....
Moxie Fab World
for their theme of Paper Piecing......
Our Creative Corner 6
for their use of Bow......
Totally Gorjuss
for Texture on Card.....
SSDS Challenge
again for their Birthday Card.....
Trimmies Craft Challenge
for Buttons.....
Creative Cottage Challenge
for Ribbons & Bows....
And this is how I made it.....
I used a purple & orange red CS for my base & layer.....
I used yellow & purple again for the small layered panels on which I paper pieced the tree & the grass.......
to create a scene with hand cut pieces
.....
I hand drew that girl in the garden, with her gardening bucket & a small digging spade & few flowers around..... & I stamped her head for the bow.....
I adhered a piece of orange red CS with the thought hand written" Growing Older Can be a Wonderful Adventure, if u just remember, that the important word is GROWING..."
I used a lavender ribbon around & to make a bow... Onto which I tagged the hand written sentiment of Birthday, with the help of a string.....
I even
cut a butterfly from a printed paper
& adhered it on the layered panels.....
I used the lavender printed paper both sides for plain & printed flowers... which I designed & hand cut...... & same goes with the yellow & light blue CS papers.....
Later I adhered buttons with colors green, yellow, orange & blue.......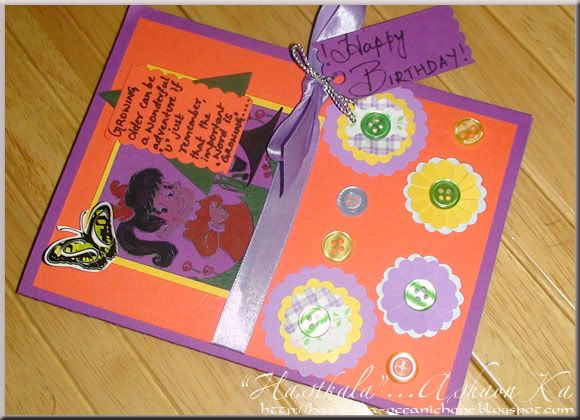 An hour of my day is dedicated to my Doctor's daughter (Nishika) who comes in for some
quick lessons on card making
... I just share what I know & learnt from sources during my card making process....
She is very interested in arts & crafts & I help her with few things I am aware of..... since I do not know the A to Z of it...... It has just been a couple of days, since I started giving lessons to her. She is so into it, that she makes cute small cards & distributes them to her friends & teachers..... I feel so happy to hear her..... Well... I just taught her to make envelopes today...... a simple way...... :-) So I am engrossed in planning what next???? for her too..... ;-)
And this is what she made...... Are they not cute for a beginner.....!!!!!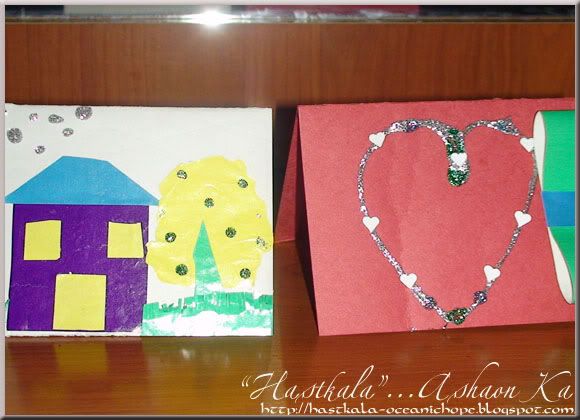 That is it for now......
UNTIL NEXT, KEEP THE FAITH!!!!!