Hello Everyone...... I made this creation for few challenges that really persuaded me to try & if delayed would have expired..... But my Bad!!!! I had a bad Internet connection, result of which, I could not post it on time...... Hence posting it as a delayed entry....... Here it is.....
And I thank......
Sweet Sunday
for their cool Sketch...
Moxie Fab World
for their Tuesday Trigger Colors.....
Stamp Challenges
for Something Layered.....
SSDS Challenge
for Bows, Buttons & Blings.....
OCC Challenge
for Beautiful Butterflies.....
Secret Crafters Saturday
for the theme A Day Out.....
All Sorts of Challenge
for their use of Stitching.....
Creative Card Crew
for their Happy Birthday Theme.....
Creative Cottage Challenge
for Going Green!!!!
Simon Says Stamps Challenge
for Things with Wings!
Ginger Snap Creations
for Botanical!
And this is how I made it.....
I used the dark pink, purple, green, black & white CSs for the base & paneled layers respectively.......
I used a green DP on the black CS.....
I used my leaf punch from Landmark for the punched leaves in green & a lighter shade of green.....
I cut few small flowers on DP in light & dark pink.....
I cut an orange recycled paper butterfly.....
I cut a balloon in my orange CS & tied a twine, which I attached on to my Teddy's hand....
Hmmm.... Yes! the teddy....
I drew it myself & hand cut it later
...
I used my water color pencils on my teddy.....
I adhered the small bindi stones with colors on the flower on the tree & the butterfly .....
I did some faux stitching on the black layer & the
Hand Written sentiment tag
.......
I adhered buttons on the sides with twines tied as bows.......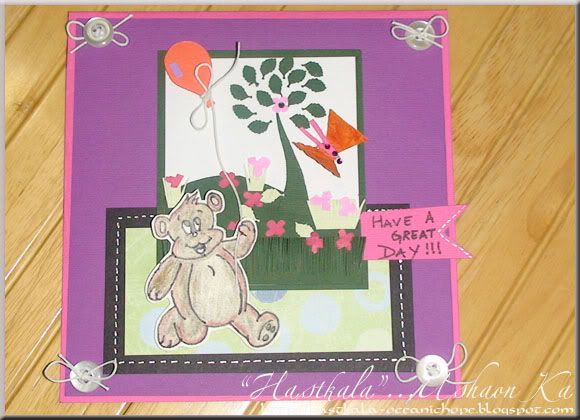 That is it for now......
UNTIL NEXT, KEEP THE FAITH!!!!!