Hey all!!!!! I thank everyone of you, for all the love u share on me & my posts..... Reading all those lovely comments, most of the times.. keeps me wondering, Is it for me....??????!!!!!! Sorry but true..... The reason because, as I see all the awesome work in this blogosphere, I feel like an
amateur
& very small..... And these words according to me suits their works of creation & not mine......
Because they all are just so very 'out of this world'
....... And mine are just trying to see the light of the day...... So I feel very humbled to read through all the words of appreciations......
But I really consider myself lucky...... Because of the 'NET'..... I am connected to this world of excellence...... & have learn't a lot from all their awesome works..... So it has helped me & guided me a lot & would continue to do so, in future too.... It has connected me with many awesome INDIANS too, residing very much in India & few from my own place... Bangalore...... who I never knew existed till then..... It feels great now to even think or share the thought that I know a fellow crafter from Bangalore, Mumbai or Delhi...... I love this feeling..... THANKS & KUDOS!!!!!
As for today's post, I made a card trying to combine many challenges which were totally 'Just Beat It' kinds...... :-)
So here is what I made......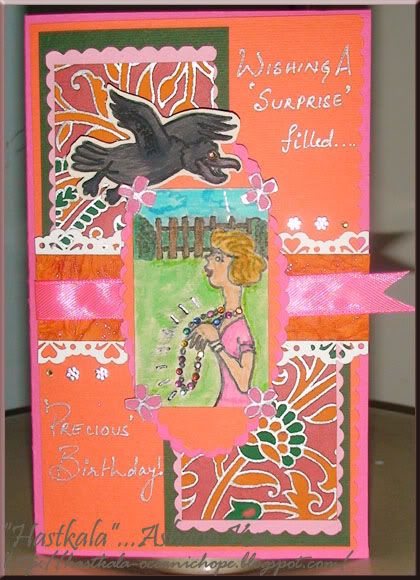 And I thank......
Mojo Monday
for their awesome Sketch.....
Stamp With Us
for their choice of hot Colors......
Stamptacular Sunday
for their Girlie Theme.....
Daring Cardmakers
for their theme of Diamond for Birthdays......
Stamp Challenges
for the use of PINK......
SSDS Challenge
for the theme of Wings in the project......
Secret Crafter Saturday
for Garden Related.....
Pink Elephant Challenge
for Anything Nature......
And this is how I made it.......
I used dark pink & orange red for my base & layer...... & on my oval shaped layered panels too....
I used dark green, light pink & orange red printed paper for the small layered panels above & below.....
I used a white CS for the partition in the middle..... on which I punched border & adhered a strip of an orange recycled paper on which I stamped small flowers, which I later filled the center with my silver glitter pen & onto which I adhered a pink ribbon too.....
I shaped the oval shape on the CS & hand cut them, on which I later used my design cutter to give the border on both the layers....
I drew the bird & the girl on cream CS & hand cut them again..... I painted the fence & the greenery to give it a garden look..... (
I know I am bad with colors
.... as I always say)
I drew the chain dropped on her by the bird.... ;-) & later adorned it with my stone bindi stickers to get the 'Precious' ornament look....... & I drew those lines to show the 'SHINE' of the ornament.....
I again used my white stoned flower bindi sticker for the embellishment on either sides......
And for the sentiment again..... That is a
Hand Written
one by ME!!!!!! :-)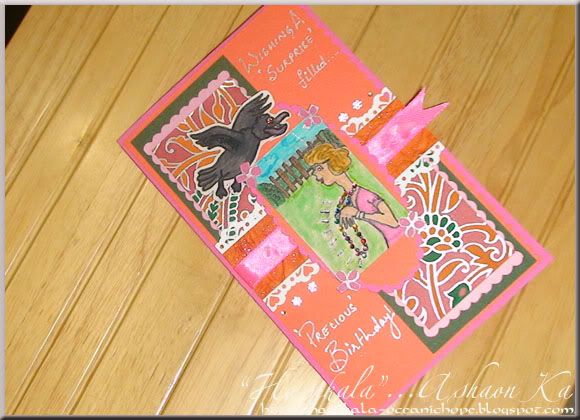 How I wish I would be surprised the same way by a bird flying above me, on my Birthday!!!!! I wish!!!!!! That is it for now.....
UNTIL NEXT, KEEP THE FAITH!!!!