Hello Everyone...... I am here with so many things to blog about... Well for now, on this post, are the tags I made yesterday..... I loved the color combo, that makes it very different..... Aah! may be it is the newbie touch to it.... ;) I am BUGGED!!!! Yes, these tags got me very interested in the project because it went through a bug to get itself embossed..... YES! YES! YES! I got my THE CUTTLEBUG.... :O Is it not CHIC!!!!!
I know it is a stale news to the rest of the world, who have already moved onto something else... But it is my first of the sorts..... & I am loving it.... My friend in UK, couriered it to me just recently, may be a couple of days earlier.... And I am so excited to using it, well now only with the default paraphernalia that comes along with the bug....
I am planning to buy the dies & folders online..... As always, I want only THE BEST!!!! ;)
That was not it... She even sent me some high quality adhesives, which I yearned to own.... They are so awesome... I cannot express how I felt running the tape runner on my projects, as well as using those sticky strips.... Oh WOW!!!! One can only experience it.... The ones I used almost got me frustrated.... I would adhere my projects, & they would all be UP again the next day, for me to stick them DOWN.... How frustrating! AAAAAAAH!!!!!!!!!!!!!!! I was so excited that I could not wait for my hubby to get well... I took a scrap of paper with the runner & asked him to adhere it... He was like WHAT! I know that was really kinda 2, 3, 4 much of me & kinda mean too.... But He is all I have with me :) Who else could I share it with??? I kept cribbing that did he have to fall ill now, of all times!!!??? I even got a heating tool along... So I feel quite equipped now;) But they are all awaiting their accompaniments.... The Bug : The Folder & Dies, The Heating Gun : The embossing Powder & may be the Runner : A Refill
ASAP
, with the intensity I am putting it into use.. ;)
WOW! I already wrote much about my excitement.... Let us get down to serious craft now.... Well about the tags I made.... Here they are.... :)
And I Thank.....
Tuesday Morning Sketches
for their LO....
The ColorThrowDown
for their lovely Color Combo.....
CuteCard Thursday
for their Blue theme....
PaperPlay Challenges
for their Monochromatic.....
PapercraftStar
for their Holiday Tags....
My Time to Craft Challenge
for their Vintage Look....
Inky Impressions Challenges
for their Christmas Theme.....
Cards For men
for Christmas Theme....
EBTKS
for Textures!!!
Stamp Something
for Christmas Color Combo somethings.....
The Secret Crafter Saturday Challenge
for Christmas Theme.....
Inspired Crafters
for ABAC 3D Items.....
Fussy & Fancy Challenge
for Anything But Card......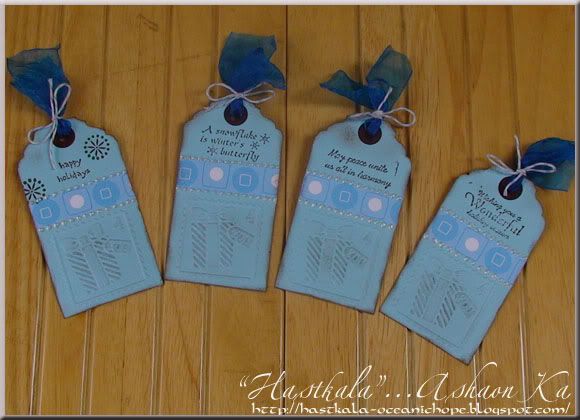 Modus Opearandi.....
Light Blue CS for the base....
DP in 2 shades of Blue.....
Pearl 3D Frolica....
Sentiments from Hobby Ideas & E's RAK....
Snowflake Stamp from E's RAK....
Ribbon from Itsy Bitsy....
Twine from B's recent RAK.....
Embossed the Gift, with my Cuttlebug folder....
Cocoa Ink from memento, which is again B's RAK.....
Lightly distressed the tag around to give the Vintage feel to it.....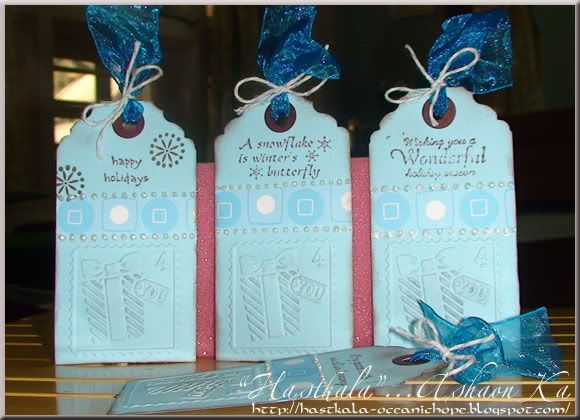 Will post the rest soon, in my next ASAP.....
UNTIL THEN, KEEP THE WAIT!!!!!!