Heya! Back with a post on my recent LOOOOOOOOOOOOT! ;)
Now I feel quite well equipped..... I have already started nibbling on them ;) Ya! I love to savor them visually for sometime, for I can't believe I have them, now..... I would unpack them 'slow & steady'.... ;)
Yes, sometimes I really go crazy.... Especially when it has got to do with crafty stuffs..... :) So here they are.... A JHALAK!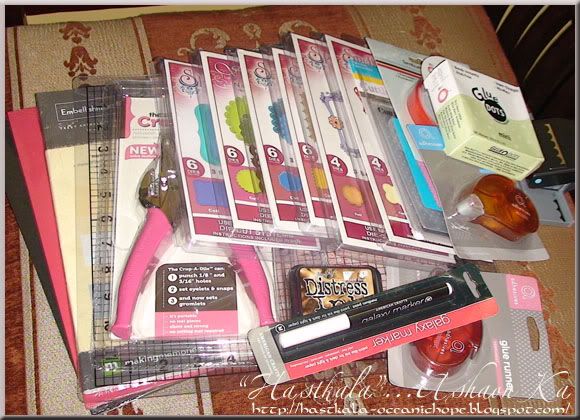 When Banu came down to Bangalore, she got these stuffs I had asked her for.... I am so thankful to her, that she managed it along with all the other stuffs she carried with her.... Really generous of her.... I just don't seem to express myself enough! She even suggested what was worth & what I could do without.... Since she has been there & done it all, I left the choice on her as to choose what was good for me & otherwise.... These are the many few ;) things she got for me.... YUM!
Along with the above, she even added a RAK... SO sweet of her.... :)
And on the occasion of Christmas, The Latte Lounge, held an event...called the Secret Santa.... I participated too.... & these were the goodies I received from my Secret Santa.... So thoughtful of her to put these yummies together for me... :)
And me as a Secret Santa, being here in India, thought it best, to send my recipient assigned, something Indian...... I put a few Indian handmade stuffs for her.... I hope & pray, it reaches her 'safe & secure'....
That is it for today..... Enjoy every moment conspiring LOVE & AFFECTION!!!!!
UNTIL NEXT, KEEP THE FAITH!!!!!