Hello to ALL!!!! I know that everyone is so so engrossed in their preparations & celebrations around.... I was totally engaged today
...
My friend from UK, who sent me the CuttleBug, had come down to Bangalore, for a very few days.... And she is busy multi tasking with her schedules of visits & trips..... As a note of thanks, I wanted to give her some stuffs.... Hence I sat down to work on them....
Yesterday she visited me & checked out my creations & liked them.... She even picked many cards for her friends, here & back at UK.... She guided me through a few quickies that she wanted & I delivered them to her today..... I would write about them later... But as of now in this post, I would like to share those projects that I made for her..... as a Note of Thanks!!!!
In my previous post, I had shared with you a B&W card with a splash of yellow on it... It was for her.... I wanted to make some additions to it, with the same Color Combo as I loved it so very much.... I'm sure it is going to stick onto me for ever.... Just Gorgeous!!!! I sincerely thank The Play Date Cafe for bouncing it our way.... So here are the additional' s to the card.... :)
And I Thank....
2Sketches 4 U
for Tag & Sketch.....
The Play Date Cafe
for their Awesome & lovely Color Splash!!!!!
Pile It On
for Gift Wrapping....
All Sorts Challenge
for Anything Goes....
The Stamping Boutique
for Anything But Card.....
The Stamping Boutique
for Anything Goes.....
The Pink Elephant
for Tags!!!!
Stamp Challenges
for Tags!!!
Paper Play Challenges
for Anything But A Card......
PaperTake Weekly
for Anything Goes....
ABC Challenge
for Keep It Simple.....
StampTV
for their Challenge to use their TOP 10 Techniques.... (
I used Split Negative Technique
)
CaardVarks
for their Monochromatic.....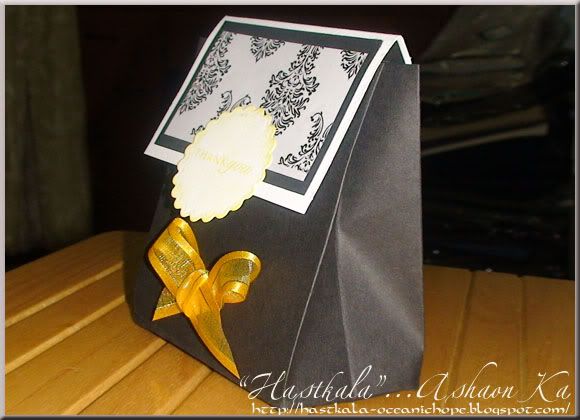 Handmade base.....
Black CS for the base & Layer....
White CS for the layer....
White Digi BG from Jakheath....
Sentiments are stamps from PaperTrey Ink, which is B's RAK.....
Ink from SU! which is E's RAK.....
Ribbon from a local store....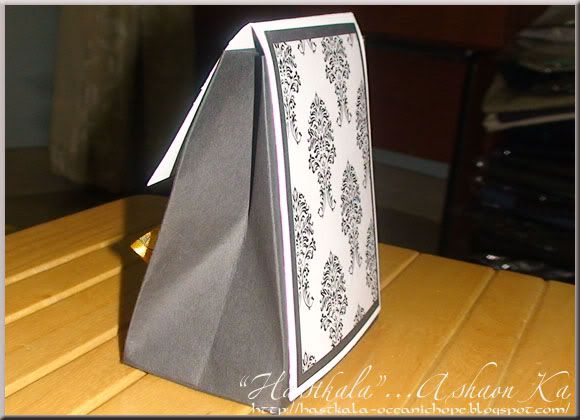 I have used the Split Negative Technique shared by GinaK from StampTV for the tags below...
I liked the white theway it turned out to be... But the black kinda disappointed me... :( I would love to give it a second shot soon..... :) Later cut with nestability die....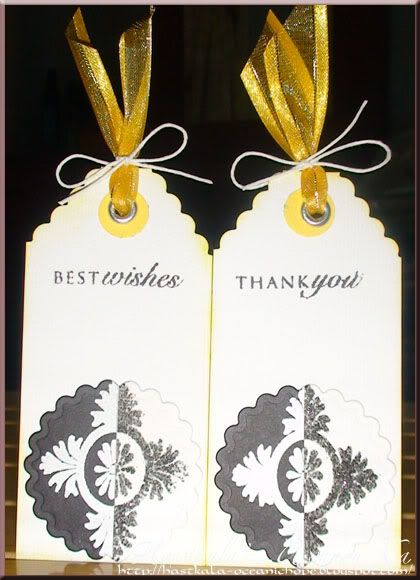 That is it in this post... Will be back soon with the rest.....
UNTIL NEXT, KEEP THE WAIT!!!!