Hello! I made this card a day before for my Friend B, who I met online a few months earlier.... And after that there was no looking back kind... I was just looking forward to see her ASAP.... & Voila! There I got a chance to meet up with her.... :)
She came down to Bangalore, a week before & I gotcha see her.... We met over a lunch at her mom's place... I simply loved the meeting both with her & her mom... They were very friendly & inviting..... I have received so many RAK from her & it surely meant a lot to me, with all the lack of craft supplies here..... I love every single goodies I received from her, which in turn helped me a lot to improve my card making skills.....
I wanted to let her know, how I felt.. Hence made this simple card for her..... But with all the excitement I totally forgot to address it to her.... & gave it to her blank..... :( How foolish of me to do so.... I spent some valuable time with her discussing few crafty stuffs..... She had got me few supplies that I asked her for, before she came down.... And with the cuttlebug, I really needed them to move on.... Along with the supplies that I asked her, she gave me another RAK, too.... Just imagine my state of mind, with all those excitement & YUMMINESS! Hmmm.... Well she would have left back to US again.... Those first memories of really meeting up with her would remain with me forever.... She is a truly blessed soul, with a BIG heart.... I'm so touched by her gestures..... :)
May God Bless her with all happiness.... Hugs)))))
So here is the card....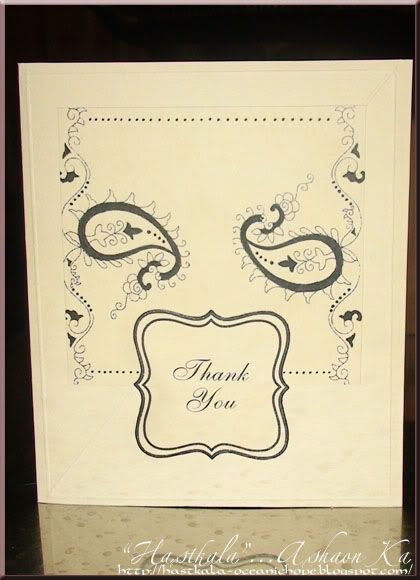 And I Thank.....
StampTV
for their Sketch....
CaardVarks
for Monochromatic......
Modus Operandi.....
Cream CS for the base & layer.....
Image is a digi from Blackleaf Studios.....
Sentiment is a digi from Digi Shack......
Scored around for a border & a diagonal partition too....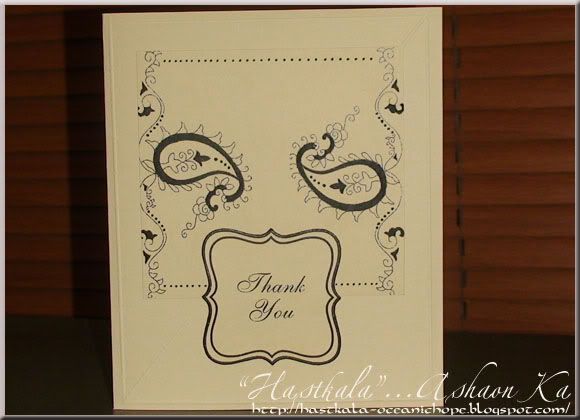 Gotcha post so many things..... & I will ASAP......
UNTIL THEN, KEEP THE WAIT!!!!