Hello! Had a few backlogs that had to be cleared... Not ATCs again..... They are all done with only the future ones to be posted..... Well this is about a few RAKs I received shortly & one of the shipments I was eagerly waiting for.... :)
So here they go.....
The first one is a RAK sent on my Wedding Anniversary this month, by our very own
Sudha Kalra
, who is 'enthusiasm personified' :) Sometimes her gestures just get me carried away..... I love the initiatives she takes in spreading that extra love in your life..... And I am sure, she would be blessed with more joy & happiness for herself.... Wishes for all your future endeavors deary.... :D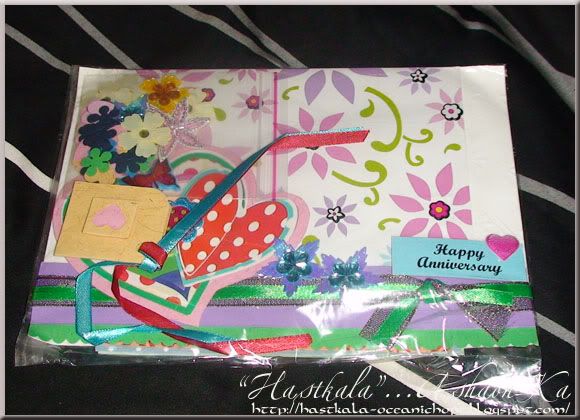 That was a nice & sweet card.. The cuts were totally fresh for me.... She sent me some 6X6 hand made DPs.... & a small pouch of embells.... Sweet!!!!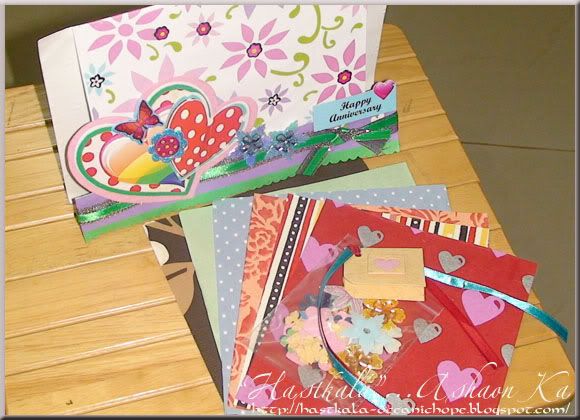 The one below is a RAK from my friend Banu.... It was so sweet of her to send me some love, my way.... What do I say? I love everything in the captures below..... On the first my favorites are buttons, flourishes, ribbons, tape runners, CS & That GORGEOUS Ippity Stamp..... WOW!!!!
Here below are some DPs with lovely prints on them, tacky tape, ribbon & some American Crafts blossoms..... :) I love them all.... It is hard for me to express how I feel.... I can only wish her loads & loads of happiness for the lovable person she is..... :)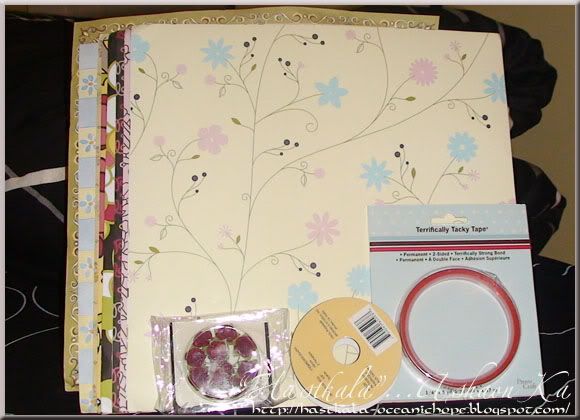 The snapshot below are my wins at challenges..... Thanks for the opportunities.... :) My personal favorite has been the scrap book kit as that was the challenge & candy that made me move out of my comfort zone of cards to attempting, scrapbooking for the first time..... :) I have to admit that was sheer inspiration.... :D Thank You!!!!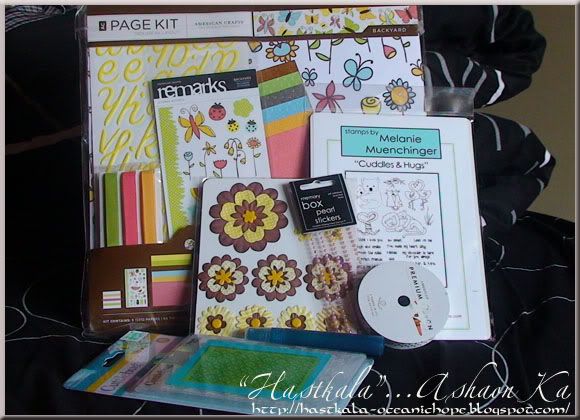 And here below are my recent purchases made..... I had been waiting for the shipments so very eagerly... Almost on my toes..... ;) One of it reached me & still looking forward to the other I have to receive from SU! Finger Crossed X...... :P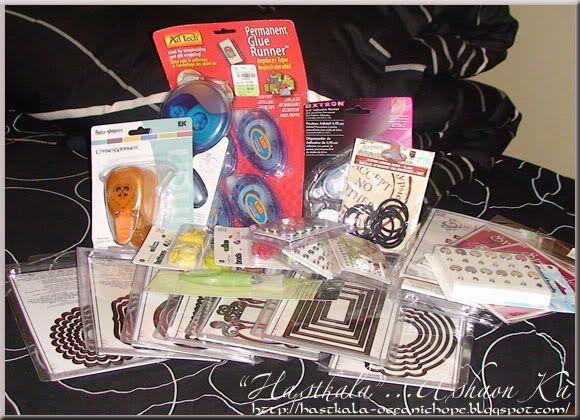 It has some dies, brads, impression plates, tape runners, binder rings & a corner punch.... :)
And here below are the captures from the unique challenge (
Scrappy Scrap Challenge
) we had hosted by our very talented
Shalini Aggarwal
..... I salute her for her awesome thought on it.... The closure was amazing with few awesome creations who made it to the top..... I did not :( So what I participated with zeal!!!! And that counts too... I guess!
So below is the capture of the scraps she sent across to us..... & following is my creation that the scraps were transformed into..... :)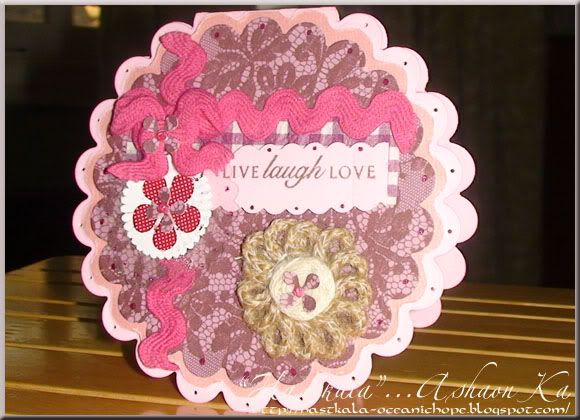 So that is the end of all the gala time I had, when I was not crafting.... :D
Now with all the paraphernalia, I better get down to create some magic for me & others too.... :)
WISHING EVERYONE A VERY HAPPY & COLORFUL CELEBRATION!!!! Let us all create magic in our lives & the ones who matter to us..... :D
NOTE :
Do Not Forget the FUN that is ON at
ICR
..... CHIME IN!!!!
UNTIL NEXT, KEEP THE FAITH!!!!!