Hello Everyone!!!! Finally done with all the Fun & Frolic..... Back to working on some projects after a long long break..... Well, my mojo did not let me down, even after a break so lengthy.....
I am so so happy for both the winners of my Candy & for all the participants too..... Hope to see u all around more often..... :)
So going on with the projects I worked on today, I am here to post one of them..... I loved the basic theme, but not sure if I did justice to it..... But would surely love to attempt on more such themes..... A total WHITE!!!!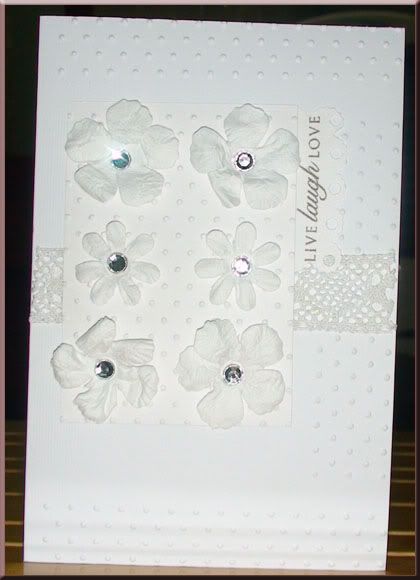 And I Thank.....
Card Patterns
for their Sketch....
Inspired Crafters
for the Gorgeous Color Theme.....
Stampinfortheweekend
for Monochrome!
Paperplaychallenges
for Sentimental....
Do You Stack Up
for Anything Goes.....
The Stamping Boutique
for the Flowers....
Stampchallenges
for Something With Flowers....
Stamptacularsundaychallenge
for Frame.....
FussyandFancychallenges
for Embossing....
Papertakeweekly
for Anything Goes....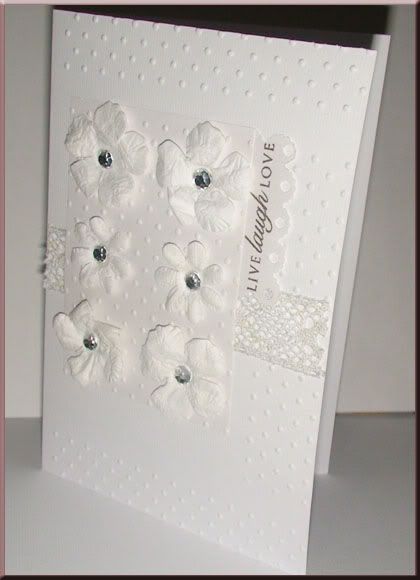 The Prep :
White Fabriano CS for the base, which was CB embossed.....
Light weight CS for the CB embossed layer....
Flowers in white from Itsy Bitsy.....
White Lace is a RAK from Shraddha.....
PTI stamp for sentiment.....
Live! Laugh! Love!
Memento Rich Cocoa for the Ink.....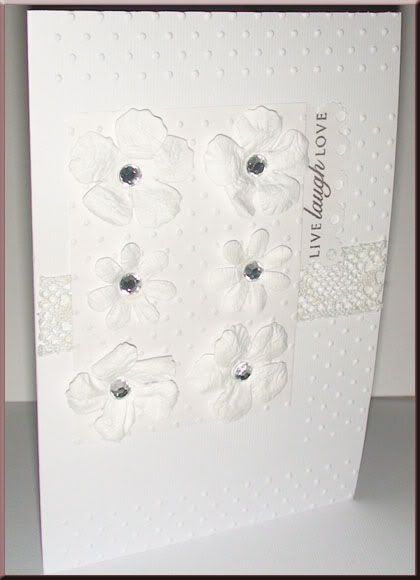 That is it on this post...... Will be back soon with few more Projects ASAP!!!!
NOTE :
Do not forget to head towards the
ICR
, for the Fun & Celebration, this month..... And not just that...
ICR
gives you the freedom to develop your talent on a platform, where all your counterparts would take notice of you.... Wishes & hugs)))))
UNTIL NEXT, KEEP THE FAITH!!!!!