Hello Everyone!!!! I am here to clear & post my ATC backlogs for three months..... Quite a time, I guess.... But somehow missed on posting them.... I am really sorry to all those creators of the lovely ATCs I have received for the months of Oct, Dec & Jan...... & so to myself as I did not take the time to acknowledge my own efforts either..... :(
But better late than never I guess..... So here they are......
Here is the first for the Month of OCT, which was fabric themed..... & I found it so difficult to come up with something... Still do not understand why... Simply managed to make this & send it across......
Below are ATCs I received for that month..... & it is only then I realized that indeed it was a tough one not just for me, but all.... I guess, that was the reason we had no one else participating for the month other than me & my hostess..... ;) WOW!!!! So these are
Rachana's
creations... I liked them as they were CAS (
Clean And Simple
) ...... Thanks deary.... If not for u I would have been left with my creations to myself.... :(
Well, we rested for the month of NOV, with all the festivities around..... & to continue, here are the ATCs for the month of DEC..... Theme was STAMPING!!! That is one favorite to all I guess.... Not bad I did quite a satisfying job with it..... though not my best..... ;)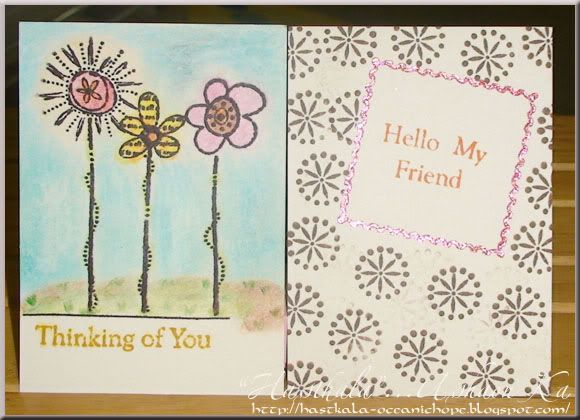 The DEC ATCs I received were so yummy.... I loved both of them..... First is from
Mansi
, who did an awesome work on the mini card... Looked royally antique..... & the second is from
Tejal
, which is very very adorable with its close to nature feel.... Vibrant colors & the natural elements well executed made it really adorable.....
These are the ones made for the month of JAN..... Awesomely themed Anniversary as the space
Crazy About ATCs
celebrated their first Blog anniversary..... I felt sad that I was not able to justify their theme very well.... Sometimes my brain just switches itself OFF! & nothing seems to flash in there for me to go ahead & execute on paper.... Makes me feel bad & sad about myself, when I am not good at what I do, but I had to do something, as I could not miss on my commitments.... :( Well, tell u what! I won the blogiversary candy & just yesterday I received my stuffs from Itsy Bitsy who sponsored the candy.... But the best part of all this blogiversary thing was the mention of my participation in the SWAPS & my commitment..... It was very thoughtful of the hostesses to mention it, which made me feel proud about few principles that I carry in my life...... Thanks to ALL!!!!!!
Well, after all that blah! blah! blah!, coming back to what this post is about, here are the ATCs I received for the month..... Both were, way too GORGOEUS!!!! I know it is bad to compare, but we all know, when we screw things up..... ;) These ATCs were so full of life as compared to my creations for the month..... It made me feel that, the ones above were not at all created by me.... How could I????? The ones I received were from
Rachana
&
Mansi
.... Both amazingly adorable & unique too, in their approach.... Kudos to you peeps & it feels good to receive such amazing pieces of art......
You must be wondering about these 2 versions of the captures.... In particular I would like to mention Rachana's creation which seemed totally different as far as the BG color goes... As I shot them in the night light with flash, the deep color of choco brown totally vanished with the lines clearly visible..... But when I realized it, I shot another without flash & it looked its original..... Though I do not understand the technicalities involved with the flash light & its results, made me feel it was totally amusing...... :)
Well, that makes me releaved of the guilt that my ATCs were just accumulating without the required attention to them.... :)
Looking forward to our FAB ATCs.... Oops! FEB ATCs... but true.... The theme was very close to my heart & I tried giving it my best.... So I am all eager to see them being displayed at
CRAZY ABOUT ATCS
........... Do not forget to make your visit there to see all the awesome creations that we Indian crafters put together, every month..... WELL! It is all about WOMEN POWER for sure...... :D
So Wishing You All Lovely Talented ladies, including ME ;) A VERY HAPPY WOMAN'S DAY!!!!!
UNTIL NEXT, KEEP THE FAITH!!!!