Hello Crafters!!! Here with a JIFFY card.... There were few challenges in my list that I wishes to attempt, but were soon going to expire.... During times like these, I just let them go..... But somehow, I could not let go of these challenges I made this card for...
There was some amount of CHALLENGE in them, that all put together I had to attempt, in order to test my efficiency in building things up..... Finally completed the project in an hour..... So HAPPY about myself, knowing where I stand..... :D
So here it is.....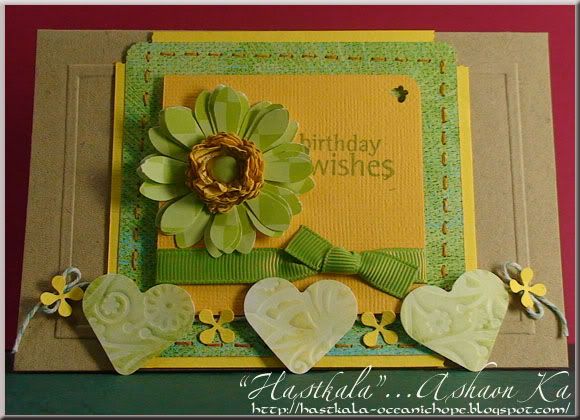 Thanks to,
Sweet Sunday
for the Sketch....
StampTV
for the Colors....
Frosted Designs
for Banners.....
StampChallenges
for Something Sweet....
Yyam
for Out of Comfort Zone....
Unity Bloghop
for the Monthly Challenge with Twist....
365 Cards
for GHI Crafting...
Creatice Card Crew
for NO Image.....
CraftyCreationChallenge
for In Stitches....
ABC Challenge
for Sewing....
PaperTakeWeekly
Challenge for Girlie....
DelightfulSketches
for Pastels & Ribbon....
SimonSaysStamp
for Girlie....
StamptacularSundayChallenge
for Focus On Words....
Prep :
Kraft for Card Base....
Fabriano Sheet in Yellow & Sweet Mango CS for layers....
Girlfriends Damask DP from Daisyd's
Gross grain Ribbon which came with the Scrap booking Pack....
Bakers Twine which was B's RAK, for the Banner....
De bossed & punched out Hearts for Banners.... Oops! forgot to mention that I sponged ink on them......
Punched out mini floral in yellow....
The main Flower is hand made - Punched out mini flowers for the center & bigger ones for the base.... Pierced them through a Brad to hold them in place..... I loved my first time-hand made blossom..... :D
Ippity Stamp for the sentiment.....
I felt lazy to bring down my sewing machine & get it ready for a sew... Instead used my new paper piercer to pierce holes & hand stitched into those holes.... ;)
I think that pretty much covers everything..... My hubby is busy watching the Ind-Aus World Cup match... Gotcha go & serve him dinner.... If not he would forget that he had to eat, too.... ;)
UNTIL NEXT, KEEP THE FAITH!!!