Hello Everyone!!!! Finally that day when my blog completes a year of its birth & worth...... I am so delighted today reminiscing how it all started & makes me jump for joy!!!! I wanna take this opportunity to thank every one of you who has inspired me & still do, to keep me & my space going!!!! A Big THANK YOU!!!!!!!!!!!
I was kinda held up since morning as I had to do some last minute project & wind up a post that had to be mailed.... I had to post my ATCs for this month, which I finally managed to complete yesterday..... I had to hurry with a set of tags that I took up last minute for a crafty friend.... :)
Nothing much but simple gift tags..... I could not think of something worthwhile that I could send her.... but wanted to send something desperately.... Hence thought of tags & now I can confidently say that TAGS are my FORTE!!! Somehow I just love myself making them... Makes me feel good from within.... Not that other creations don't, but tags have a special space as far as my creations are concerned.... I love the way they turn out to be at the end..... :D
Well here they are.....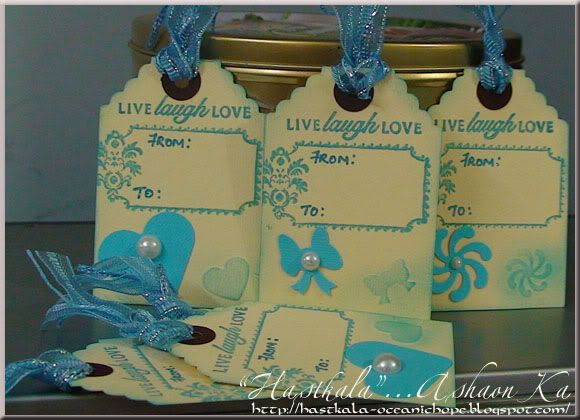 And here are few challenges that I would love to send them to.....
PaperCubed
for 3D projects for Valentine's Day......
Moxie Fab World
for Tuesday Trigger.....
SimonSaysStampChallenge
for Coffee & Cream....
CuteCardThursday
for Shiny Happy Cards.....
PaperPLayChallenges
for Add Shine....
TrimmiesCraftChallenge
for Not Card....
StampChallenges
for Something Funky.....
StamptacularSundayChallenge
for SOS!!!
TheStampingBoutique
for Flowers.....
DoMoreWIthLess
for Distressing....
CraftyJCChallenge
for Hearts & Hugs))))
Prep :
Cream CS for the base.....
PTI Stamp for Sentiment....
Image is a Just Wanted To Say, Ippity Stamp.....
Coffee Brown CS for the punched Circles....
Punches for Bows, Hearts & Flowers....
Dry Embossed the same with an embossing equipment from Itsy Bitsy....
Ink is Pretty Color from Staples....
Sponged the ink around to distress the look as well as to get the embossed image show....
Ribbon from Itsy Bitsy....
Adhered adhesive pearls to complete the embellishment.... :)
Live! Love! Laugh! always!!!!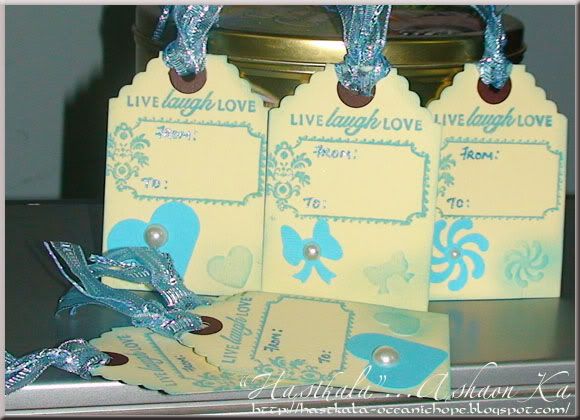 I really really hope she likes it..... I know it is little, but will make up for it the next time.... ;)
P.S.
The Double Dose is on.... I really hope u peeps are catching up with the WORDPLAY!!!! I would really feel bad if u missed the PUN, somewhere on the way..... :( ENJOY!!!!
NOTE TO ALL INDIAN STAMPERS :
I request you ALL, who are currently following the blog, to shoot me a mail as to who is receiving the Indian Stamper Newsletter & who is not..... I feel I am missing someone somewhere..... Just wanna make sure that all are being informed about the happenings, As you would all receive NEWS of something interesting, fun & very Indian, ASAP!!!!!
With March around the corner for ALL of us WOMEN, I am sure you would not wanna miss getting drenched in these fun waves...... :D
UNTIL NEXT, KEEP THE FAITH!!!!!!