Hello People! This blog is turning one!!!!! And all thanks to every single sweetheart out there, who have been here to this space, even once till date..... I owe to you all, for being so kind to accept me into this blogosphere.... A space for papers, scissors, adhesives & an art in its form.....
Since childhood, I fancied these things to which my dad always grunted, as to he disliked, seeing me with them getting involved in some extracurricular activities & not concentrating on my studies... ;) Well now, these things have not only been a part of my life, but an addiction too... :o
And all thanks to my hubby who supports me a lot, though at times objects, for being a spendthrift as far as the paraphernalia is concerned.... But gives in, when he sees my long face with a sullen expression :( I love him forever; for all that he does to make & keep me happy..... He makes me feel important every single moment.... And I feel life is so worth living.... With a heart that beats for me & with me.... :) Touch wood!!!!!
So going further with the Blogoversary, this blog would turn
ONE by the 23rd of February
... And I thought it was high time I passed on some love that I had accumulated for the past year....:) What could be best, than putting up an interesting candy for my people... It is one of the most popular means of spreading cheers, over the net.... At one point of time you even get to reach out to them.... So it is totally a WOW!!!!
I have been trying to put together some interesting stuffs for my counterparts here in India..... Yes! I say this because, as everyone knows, we hardly get any of the card making & scrap booking stuffs here. Hence all of us try to lay our hands on them outside this country... May be through some generous people sharing RAKs or by just shopping online.... So when we get our products from overseas, it does not make sense to me to share it back with them.... Hence I thought it better, to share a few things, with my counterparts here in INDIA.... :)

So I request you all, my lovely people out there, who have an easy breezy access to those awesome & sumptuous stuffs, to not be upset with my action & to continue patronizing my space, because that collectively brings me to where I am now... Looking forward to all your love & affection, now & forever.... I pray to God to shower all his blessings on every one of you who have made this space, what it is today.... A Welcoming & a Friendly One!!!!
So my
Indian counterparts living in India
, here is a small Token OF Appreciation & love from my behalf on the event of my blog completing a year of its success & worth....
I have split my candy into three parts, of which the first 2 parts are the Procedures & the 3rd part is the consequence.... ;)
TOFA Candy (

From Feb 1st To Feb 20th

)
BONUS Candy (

From Feb 21st To Feb 26th

) [

Everyday Basis

]

RESULT (

On March 1st

)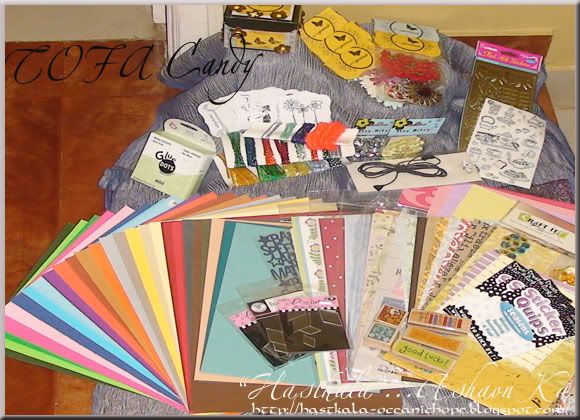 The TOFA Candy is the main candy
; where you have to enroll yourself for the candy, by commenting as to what you like the most in the products put together, by helping me spread a word through flaunting the Candy Button on your Sidebar & finally by linking yourself in the Linky.... :)
And it comprises of the following:
Cardstocks - 26 pieces in assorted colors
Lace Cardstock - 1 piece pack
Corrugated Sheet - 3 assorted pieces
A4 DPs - 10 + 2 Embossed DPs
12x12 DPs - 19 (of which 2 from SU!)
6x6 DPs - 2 pieces
Sticker sheet - 2 pieces
Sticker Quips - 3 booklets
Paper Twisted Gift Cord - 1 pack
Cord & Ribbon bound sheets - 3 assorted
Buckle Ups - 3 packs
Handmade Packets of Embellishments - 6 packs
Wooden Stamps - 5 pieces
Itsy Bitsy Embellishments - 2 packs
Glue Dots - 1 pack
12x12 Sentiment sheet - 1 piece pack
Stamped Images - 1 Box

The Bonus Candy
can be availed, by playing a game successfully, that I will put forth for you on the marked date above (
On a daily basis
)... But to make yourself counted IN, for the Bonus Candy, you have to be a party to the
TOFA Candy
.... ;)
So I hope, it makes it clear that both the candies are connected :) And on the final day of the result, the lucky winner of the TOFA Candy gets a chance to win the Bonus Candy as well, if & only if they have played the Bonus Candy game successfully.... If they fail, then another person would be given a chance to be picked for the Bonus CANDY..... So it is 2 chances & 2 candies :)
But like all giveaways & candies, I have a set of rules too.... Simple or complicated, you decide... ;)
RULES :
Comment as to what you like in the TOFA Collection
Flaunt on Sidebar (

Grab Button on the right Sidebar

)

Link to Linky
Do all the ABOVE to record your ENTRY to the BONUS CANDY!

Geographical Restrictions

: Within India Only :)
Oops! That looks like quite a post.... A lengthy one!
Thanking every one of YOU Again..... Play The Candy & ENJOY!!!!!!
UNTIL NEXT, KEEP THE FAITH!!!!!!