Hello Everyone!!!! This is my OMG Post, for sure.... Because, this is my maiden attempt as far as a scrap booking page is concerned.... Seriously YES!!!!! I myself cannot believe it, that I did..... And I must admit & bow to Banu from Inspired Crafters, who has seriously inspired me into this, FINALLY!!!! I had this on my mind since several days... What days???? About to complete a year of card making & craft blogging..... I had been seeing people who have been there & done it all, do awesome pages for journaling..... I always dreamt of but somehow did not dare to.... I do not know what kept me back from attempting one.....
Of course I had hard time understanding the concept, first of all..... But even after I did, I could not make an attempt & NOW, all of a sudden, out of no where, I made one..... :O
I thank every soul who has been creating these pages & letting me dream that I would too, some day!!!!!
Well, I was determined this time & hence made this in a jiffy..... Really hope it justifies..... ;)
So here it is.....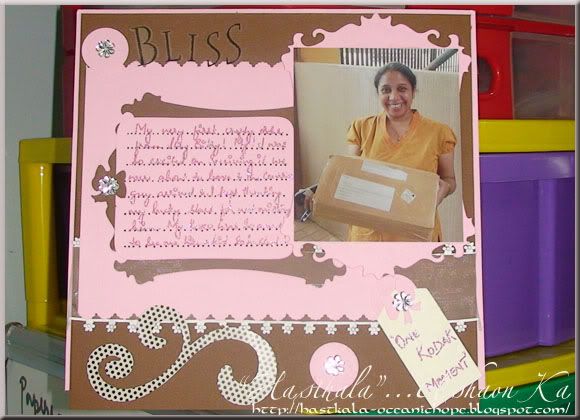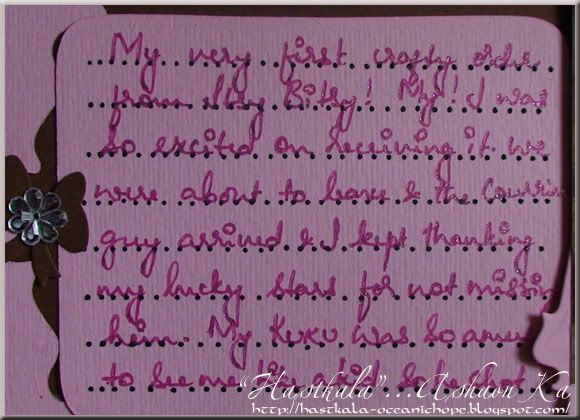 And I Thank.....
Inspired Crafters
for their Sketch..... (
Thanks!
)
365 Cards
for their Photo Inspiration.....
ABC Challenge
for N for Nesties.....
PaperTakeWeekly
for Anything Goes + Flowers.....
PaperPlayChallenges
for Layer It Up!!!
Totally Gorjuss
for As U Like It....
StamptacularSundayChallenge
for Whateva!
TheSecretCrafterSaturday Challenge
for Hot Chocolate....
MyTimeToCraftChallenges
for Flourishes....
TimmiesCraftChallenge
for In The Roll Of A Die....
SSDS Challenge
for Punchy...
Crazy4Challenges
for Vintage or Shabby Chic....
PileItOn
for punch it....
PennyBlackAtAllSorts
for Flowers...
Light Pink CS for the 8x8 base & Layers.....
Choco Brown for matting.....
Nestie Die Cut on Light Pink CS.....
Punched the light pink circles..... for that polka feel..... ;)
Floral rhinestones from stash....
Sheer BLISS! are alpha stickers.....
Punched the bows too from choco brown CS....
I love this Nestie Die cut frame..... My photo framed by it, makes me feel like another KODAK MOMENT!!!!! Somehow makes me proud.... ;)
The Flourish is a pebble sticker from Itsy Bitsy....
Ribbon in white from stash....
Scalloped border punch is B's RAK....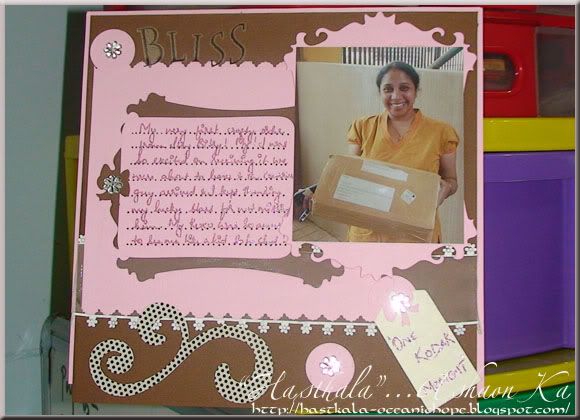 That is it on my long story of The Making of a Scrap Book Page!!!! Well now I am dead tired.... Just to avoid lying down & look sick, I got myself so much engrossed with many things on my comp.... I feel like a dead chicken.... Hubby went to sleep warning me to come to bed... I better crash now!
U All Take Care!!!! My Lovely Peeps!!!
UNTIL NEXT, KEEP THE FAITH!!!!!