Hello!!! Here with few projects for the
PTI Tag
Contest..... Loved the tags shared, which were wonderful to work with & decorate..... Marking their Anniversary celebrations, the designers put together few tags which were free to download..... All u need is to incorporate them on your creations to do wonders..... :)
Well they are like 8 of them... All beautiful.... Since I have a B&W printer, I could not get the colored tags printed.... Hence I just stuck to the color that I could go with..... :)
So here they are....
With all those tags, the thought that struck me instantly was that of Set Cards!!!! Went ahead with it & this is what I came out with.... Just took me some 15 minutes to complete the whole set..... :)
The envelopes took half an hour.... I made them for my crafty friend.... I hope she likes them when she receives it..... I am excited.... Planning to accompany them with something else too... Really hoping to, lemme see.... ;) Somehow my brain's not working.... Looks like it is about to go on a strike..... Just a feeling as to something is not right...... I wonder what!!!!!
I would love to enter this set into Our Very Own Indian Challenge....
CraftyJC Challenge
for Hearts & Hugs......
PileItOn
for Bright & Breezy!!!
ABC Challenge
for Nesties....
Stamp Challenges
for Digis....
Stampin For Weekend
for Valentines Day.....
All Sorts Challenge
for Love Love Love....
Crazy4Challenges
for Valentines Theme...
TheSecretCrafterSaturdayChallenge
for Valentine!
StamptacularSundayChallenge
for Hearts Gone Wild....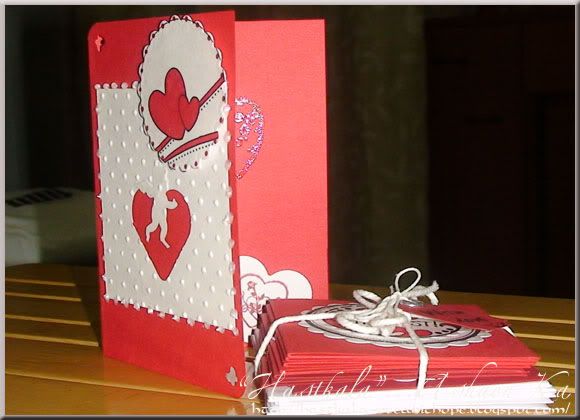 Nothing much other than this..... Hope to be fine & back with my senses :( Lots of Love to ALL!!!
UNTIL NEXT, KEEP THE FAITH!!!!!