Hello!!!!! As the entire world is getting ready to celebrate A special Day for their Mother..... here I am, just another daughter, gearing up for the same...... I tried my hands on an Easel card, for the first time, yet to make a difference.... along with a gift box of cards..... for which the cards are not yet ready.... I will in another day.....
So here is what I made.....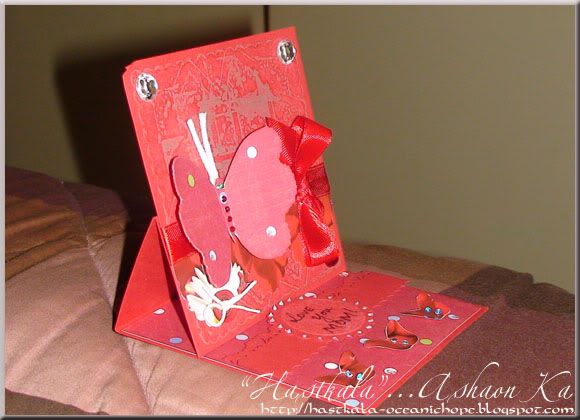 And I thank......
CaardVarks
for their Monochromatic Theme.....
Papertake Weekly
for Something not done till date......
My Time to Craft Challenge
for Ruby Red....
Flutter Wednesday
for Clean & Simple Sketch with Butterfly....
Double Dutch
for mom's card & Gift....
Our Creative Corner 6
for mom's card without blooms....
Crafty Creations
for make your own paper....
Creative Cottage Challenge
for Circles....
Delightful Sketches
for using Punches.....
Cute Card Thursday
for making something on your own.....
Daring Card Makers
for Easel Cards.....
This is how I made them.....
I used the red CS for base, on which I layered a plain red craft paper, on which I in turn stamped the background..... Though the image is not that clear, which is a floral border, it still gives some kinda background effect......
I drew & hand cut the butterflies & on the bigger one, I adhered a string for its antennae... & adhered small stones for an effect on all....
I tied a ribbon around, & adhered a button with a twine tied to a bow & used some bigger sized stones around for a look.....
I used a piece of red CS, which I punched on a side with my border punch & the other end I just used my scallop scissor the other way round to get the outer scalloped edge......
I hand cut scalloped circle & a plain circle adhered them on, together... & wrote a sentiment for mom....... ( whom I really miss)..... I would give it to her the day I see her, next..... :-)
I used my 3D liner from hobby ideas for those pearls on the scalloped circle.....
And I made that gift box to match, for which the set of cards are yet to be made..... I used floral stones on the box, with plain round ones, too...... & few buttons tied with strings......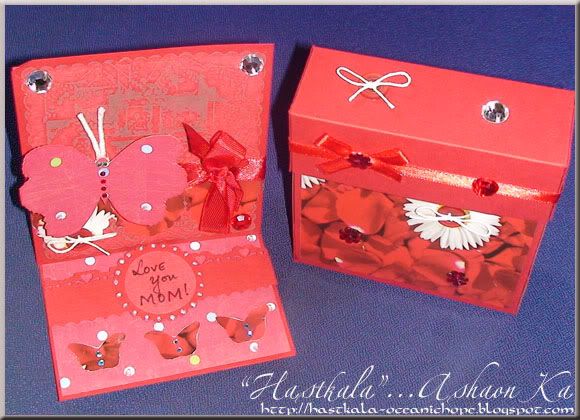 I am late for few of the challenges because of my nerd Internet connection.... acting crazy..... :-(
That is it for now.....
UNTIL NEXT, KEEP THE FAITH!!!!!