Hello!!!! Thanks to one & all for those lovely words of appreciation..... Keeps me going..... I wanted to attempt few challenges, which were really challenging.... The most important thing, is the crave for pocketing cards, that is the result of all those awesome challenges..... It feels great to see the FINAL PRODUCT, influenced by these awesome & great ideas..... :-)
So here I am with my post for today.....
This month on the 25th, my brother & my sister in-law, would be celebrating their 1st wedding anniversary..... I really looked forward to make something nice for them..... And few challenges paved the way for me to accomplish that yearning...... :-)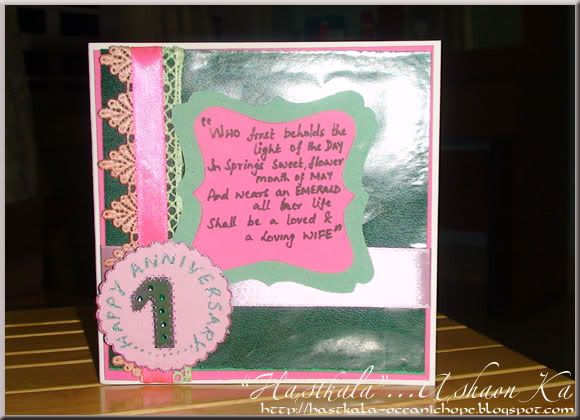 I thank.....
Card Patterns
for their nice Sketch.....
Totally Gorjuss
for their Colors....
Daring Card Makers
for Emerald Stone Inspiration.....
Our Creative Corner 6
for their Anniversary theme.....
Stamping for the Weekend
for Card 4 Male.....
Double Dutch Challenge
for Number on Card.....
ABC Challenge
for Unused Stash......
Cute Card Thursday
for Someone Special!
I used.....
A blank white card with envelope from my stash.... which till date I had not used..... (True that there is a time for everything ;-)
Pink Cs for the layered panel, which in turn I layered with a green printed paper (again from my stash) & a lace & ribbons in peach/green & light/dark pink, respectively......
Designed layers on green plain craft paper, adhered on to a CS, on which I adhered a similarly cut design in dark pink CS....
Hand Written Sentiments.....
Cut a number ONE from scrap & did a faux stitch on it for an effect..... Adhered the green rhinestones on the number.....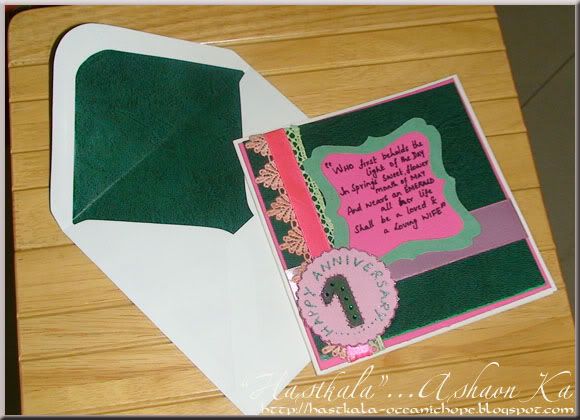 I even lined up the ready envelope, by inserting a panel in green printed paper used on the card, to make a customized match..... Hence, completed this project for my brother... for his important day..... Best Wishes!!!!
And this basket is for my Sister in-law...... I would fill it with some other nice goodies, for her.... As of now, I just filled it with those recent purchases I made online..... ;-)
And I Thank.....
Fussy & Fancy Challenge
for Basket.....
SSDS Challenge
for Anything but Card.....
Sweet Sunday
for the cupcake inspirational Colors.....
Inky Impressions
for Summer Creation....
Creative Cottage Challenge
for Fancy Folds.....
And not to forget, I thank Gina K from
StampTV
, for inspiring me with these ideas of a basket & lining up the envelopes.....
I Used.....
Pink & Red CSs for the base & layered panels, respectively.....
Plain handmade paper in Orange & a patterned paper with bright summer colors.....
Autumn leaf punch.....
And embellishments from my new purchases made from Itsy Bitsy....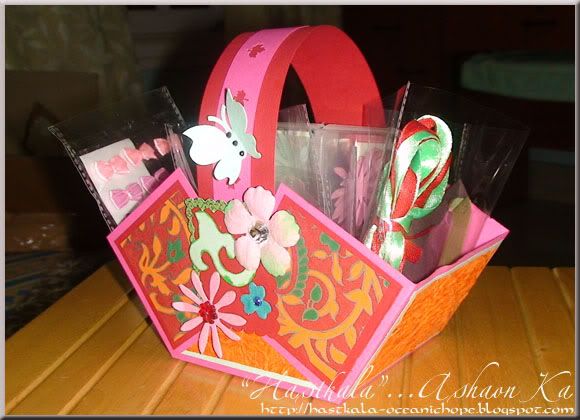 That is it for now.....
UNTIL NEXT, KEEP THE FAITH!!!!