Hello!!!! I have a sweet treat for you ALL.... Today......
This card I am here with, is my dedication to you all, for supporting me with kind & sweet gestures & words...... Kindly accept my Thank You!!!!
Here it is......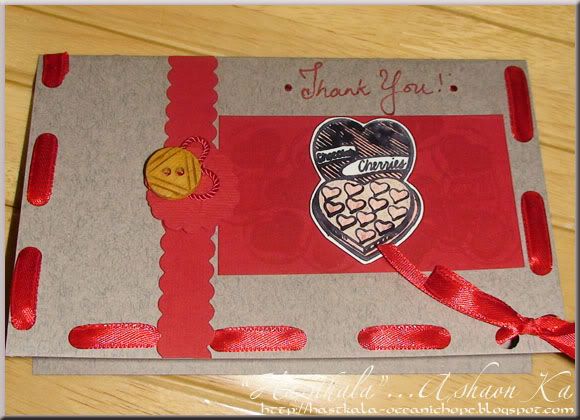 And for this Challenge I thank.......
Card Positioning
for their cool Sketch....
My Time to Craft
for Ruby Red!!!!
Ginger Snap
for Kraft CS...... which is my favorite CS......
Pile it On
for their Sweet Treat....
ABC Challenge
for Thank You!!!!
Crafty Creations
for making my own Paper BG.....
StampTV
for Tone-on-tone......
Cute Card Thursday
for making any element on my own......
Kwerner Design
for Gender Neutral.......
Creative Cottage Challenge
for Circles.....
Delightful Sketches
for using Punches.....
And this is how I made it.....
I used Kraft CS for base......
I used red CS for the layers....
I punched the base with my small circle punch from hobby ideas....
I passed the red ribbon through these punched holes to give it a bordered look.....
I fastened the ends of the ribbon to tie a bow.....
I gave a scalloped border to the red lengthy panel, with my design cutter..... on which I adhered a scalloped circle, on which I in turn adhered a button with silk thread tied beneath.....
I stamped the red CS panel with my hobby ideas heart stamp with the hobby ideas red pigment ink to make a patterned background....
The use of red ink on red CS gave the tone-on-tone look to the self made CS paper....
I later stamped my Exchangeable Clear stamp on a white CS, colored it with my water color pencils & later adhered the hand cut Chocolate Cherries on the made patterned BG.......
I used two red small stones on either side of the handwritten sentiment saying.... THANK YOU!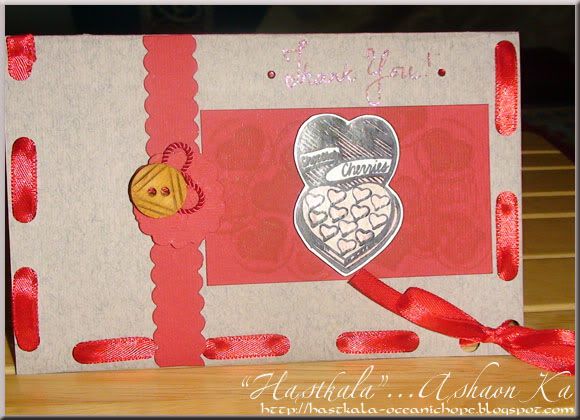 That is it for now.....
UNTIL NEXT, KEEP THE FAITH!!!!